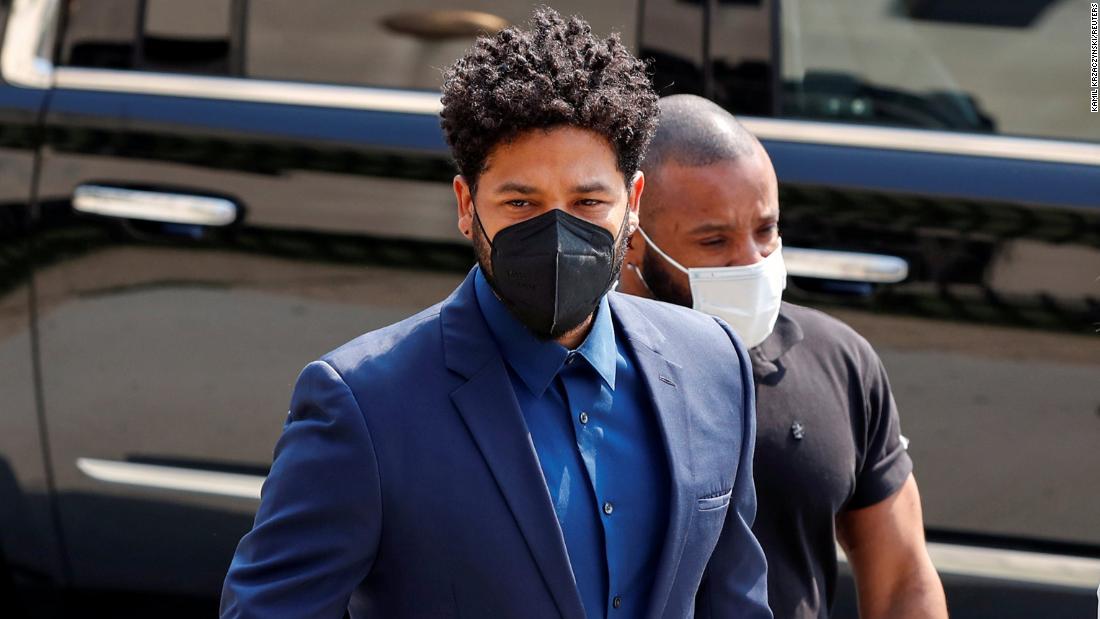 Defense attorney Nenye Uche called the Osundairo brothers intelligent criminals, interested only in going after a famous celebrity's money and their own fame.
"They lied to this court, they lied to this jury," Uche said. "They're criminals. They're the worst type of criminals."
The trial started last week as prosecutors told the jury that Smollett, who is Black and gay, directed the Osundairo brothers to carry out a fake anti-gay and racist attack on a frigid night in Chicago near Smollett's apartment building. Five police investigators and both brothers testified for the prosecution last week.
Defense attorneys called seven witnesses of their own to testify, highlighted by Smollett himself. He testified over about eight hours Monday and Tuesday he had not planned any such hoax, and that he was actually attacked late one night after going out to get a Subway sandwich.
Prosecution says Smollett lied on the stand
Over about two hours, Webb highlighted six specific issues that he said proved Smollett's guilt and contrasted his testimony with what they say really happened.
"Mr. Smollett developed a plan to carry out a fake hate crime," he said. "He then falsely reported the fake hate crime to the Chicago Police Department as a real hate crime."
The first issue was his decision to withhold cell phone, medical, and DNA evidence from police.
"Mr. Smollett didn't want the crime solved," Webb told jurors. "He wanted the media exposure but he didn't want the brothers apprehended."
He said Smollett withheld his medical records because he "did not want the police to know he wasn't injured that much."
The second key piece of evidence Webb focused on was accusing Smollett of making false statements to the police on the race of the attackers.
The Osundairo brothers are Black, while Smollett initially indicated the perpetrators were White. Smollett said during testimony that he was never sure the perpetrators were White but "assumed" and that he was "certain" he was saying pale-skinned from the beginning.
"He not only told you [jurors] he assumed they were White, he told the police that," said Webb. "He wants police to be looking for someone White."
The third piece Webb focused on was Smollett tampering with a rope, which had been fashioned into a noose, that the attackers allegedly put around his neck. He said Smollett "monkeyed around" with the rope — a phrase that led to groans from the Smollett family, as nearly all of them shook their heads.
Smollett testified he took the rope off after the attack but then put it back on for police to see when they arrived.
It "destroys his credibility," Webb said. "Why did he have to jimmy and monkey around with the rope?"
The fourth piece Webb emphasized was the Osundairo brothers could not have attacked Smollett without advance knowledge. The supposed attack came at 2 a.m. during the polar vortex outside Smollett's apartment after he went out to Walgreens to get some eggs and ended up at Subway.
"It's just a ridiculous story he made up," Webb told jurors. "How could the brothers ever know to be right at that intersection, right at 2 a.m.?"
The fifth piece of evidence was the aforementioned medical evidence of no serious injuries.
The final aspect of the case Webb emphasized to jurors was a February 2019 police interview, weeks after the alleged hate crime took place, and a text to Bola Osundairo. Webb pointed out Smollett did not sign the criminal complaints laying out the Osundairo brothers were the ones who carried out this alleged crime.
Smollett claimed he didn't sign, despite initially saying he would, under advice of his legal team. But Webb then called up a text message Smollett sent that day to Bola Osundairo beginning, "Brother I love you, I stand with you, I know you did nothing wrong."
Webb told jurors Smollett wanted the brothers to know he was going to keep his mouth shut, in hopes they would keep their mouths shut too, and no one would find out.
Defense says not to believe Osundairo brothers
In the defense's closing arguments, Uche told the jury multiple times not to believe most of the testimony given by either Osundairo brothers, including what they perceived to be the reason Smollett wrote one of them a check for $3,500.
Prosecutors have argued throughout the trial that the check was given as payment for staging the fake attack. Uche pointed out Smollett paid his publicist Pamela Sharp $3,500 as well and said it was normal for celebrities to pay large sums of money for services.
"So is Pam Sharp also planning a hoax with Mr. Smollett? Ridiculous!" Uche told the jury.
Uche claimed that detectives assigned to the case failed to perform a complete and thorough investigation, replaying video of a car that had pulled up next to a taxi the Osundairo brothers took after the alleged attack. He highlighted an image of the vehicle's driver as he stopped next to the taxi.
"Who is he?" Uche loudly asked.
Uche referenced Webb's comments during the prosecution's closing arguments when he said Smollett's testimony that he went to buy eggs was not believable.
"They said he went to buy eggs," Uche said laughing. "Who's going to believe that?"
Implying that Smollett didn't need to fabricate the trip for his own defense, Uche continued, "Why didn't (Webb) say he (Smollett) went straight to Subway? He told the truth because that's what he did."
Uche said Smollett grew to appreciate Chicago and was not someone who would do what prosecutors alleged.
"To go into Obama's city to pretend there are Trump supporters running around with MAGA hats? Give me a break," Uche said.
Key moments in the trial
Bola Osundairo, who was closer to Smollett, told the court that Smollett "wanted me to fake beat him up." He said he agreed to do so because he felt indebted to the actor.
His brother Ola Osundairo told jurors that Smollett "had this crazy idea of having two MAGA supporters attack him," and that he wanted "to put that on social media."
As per their plan, the brothers met Smollett at about 2 a.m. by his apartment, they testified. There, as he had instructed, they yelled "Empire, f****t, n***er, MAGA," fake punched him, poured bleach on him and put a noose around his neck, they testified.
The defense, however, has repeatedly said Smollett was a real victim of an attack. They have suggested that the brothers were motivated by homophobia and/or an attempt to scare Smollett into hiring them as security.
"Have you ever planned a hoax?" his attorney asked.
"Never in my life," Smollett said.
He also cast doubt on the brothers' true motivations. He said he received a "hate letter" in the mail at the "Empire" studio in Chicago on January 22, 2019, seven days before the alleged attack. Afterward, Bola Osundairo approached him about becoming his personal security guard, something Osundairo had repeatedly asked him, Smollett testified.
In addition, he testified that he formed a sexual relationship with Bola Osundairo but said he was "creeped out" by Ola Osundairo. Bola Osundairo denied he had any sexual relationship with Smollett.
CNN's Omar Jimenez and Bill Kirkos reported from Chicago, Eric Levenson wrote and reported from New York. Steve Almasy, Jason Hanna and Christina Maxouris contributed to this report.