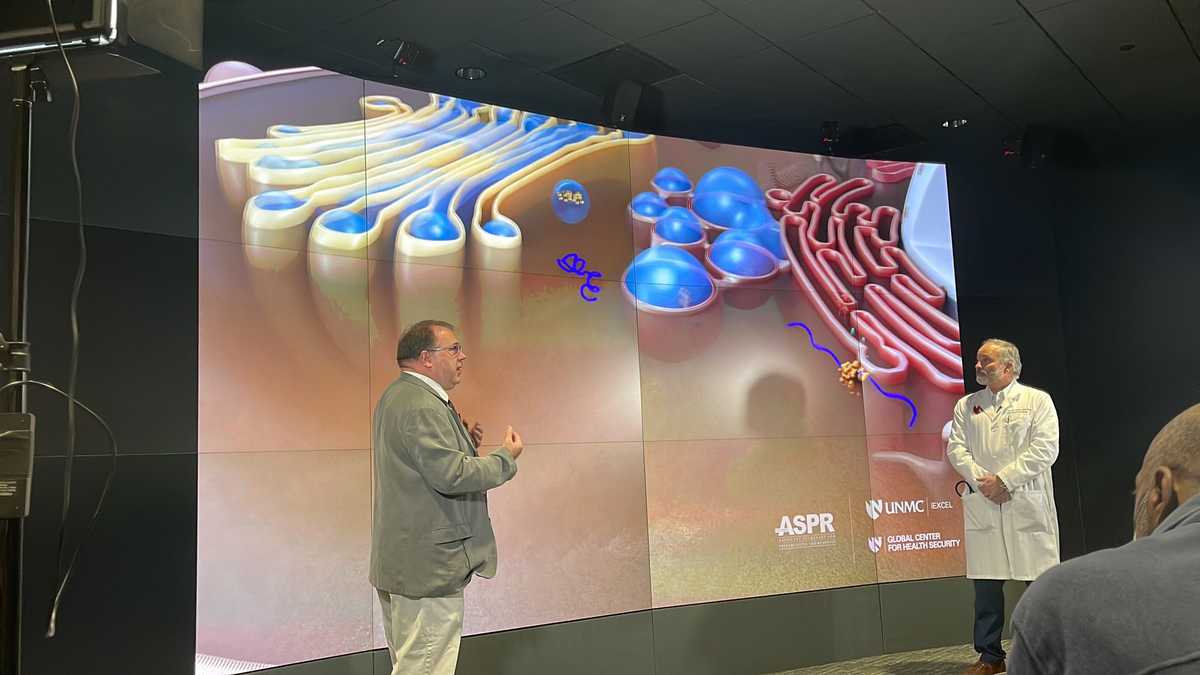 At UNMC's Davis Global Center, Dr. Peter Angeletti showed a rendering of COVID-19 attaching itself to a healthy human cell. Angeletti is an associate professor at University of Nebraska at Lincoln Nebraska Center for Virology."The virus is fine-tuning so that it can attach to human cells better," said Angeletti. "That's what's happening."Epidemiologist Dr. James Lawler said the new COVID-19 strain, omicron, attacks those healthy cells more easily. He said it's more transmissible than other variants."What we're seeing is patients who are infected with omicron are actually shedding more virus," Lawler said.Lawler said there are now reports of patients getting sick and spreading the virus just two days after breathing in droplets, which in turn, causes faster outbreaks."So, the combination of those two things means it's doubling growth rate is well beyond anything we've seen previously," Lawler said.It's still not clear if omicron is deadlier than other strains of COVID-19, but Lawler said the vaccine, and then a booster, should keep you out of the hospital."We're still seeing, even without the booster, protection against hospitalization and severe disease in folks younger than 65 is still pretty good," Lawler said. "But the concern we have now is, if you're not boosted, you're contributing to large-scale community spread."
OMAHA, Neb. —
At UNMC's Davis Global Center, Dr. Peter Angeletti showed a rendering of COVID-19 attaching itself to a healthy human cell. Angeletti is an associate professor at University of Nebraska at Lincoln Nebraska Center for Virology.
"The virus is fine-tuning so that it can attach to human cells better," said Angeletti. "That's what's happening."
Epidemiologist Dr. James Lawler said the new COVID-19 strain, omicron, attacks those healthy cells more easily. He said it's more transmissible than other variants.
"What we're seeing is patients who are infected with omicron are actually shedding more virus," Lawler said.
Lawler said there are now reports of patients getting sick and spreading the virus just two days after breathing in droplets, which in turn, causes faster outbreaks.
"So, the combination of those two things means it's doubling growth rate is well beyond anything we've seen previously," Lawler said.
It's still not clear if omicron is deadlier than other strains of COVID-19, but Lawler said the vaccine, and then a booster, should keep you out of the hospital.
"We're still seeing, even without the booster, protection against hospitalization and severe disease in folks younger than 65 is still pretty good," Lawler said. "But the concern we have now is, if you're not boosted, you're contributing to large-scale community spread."