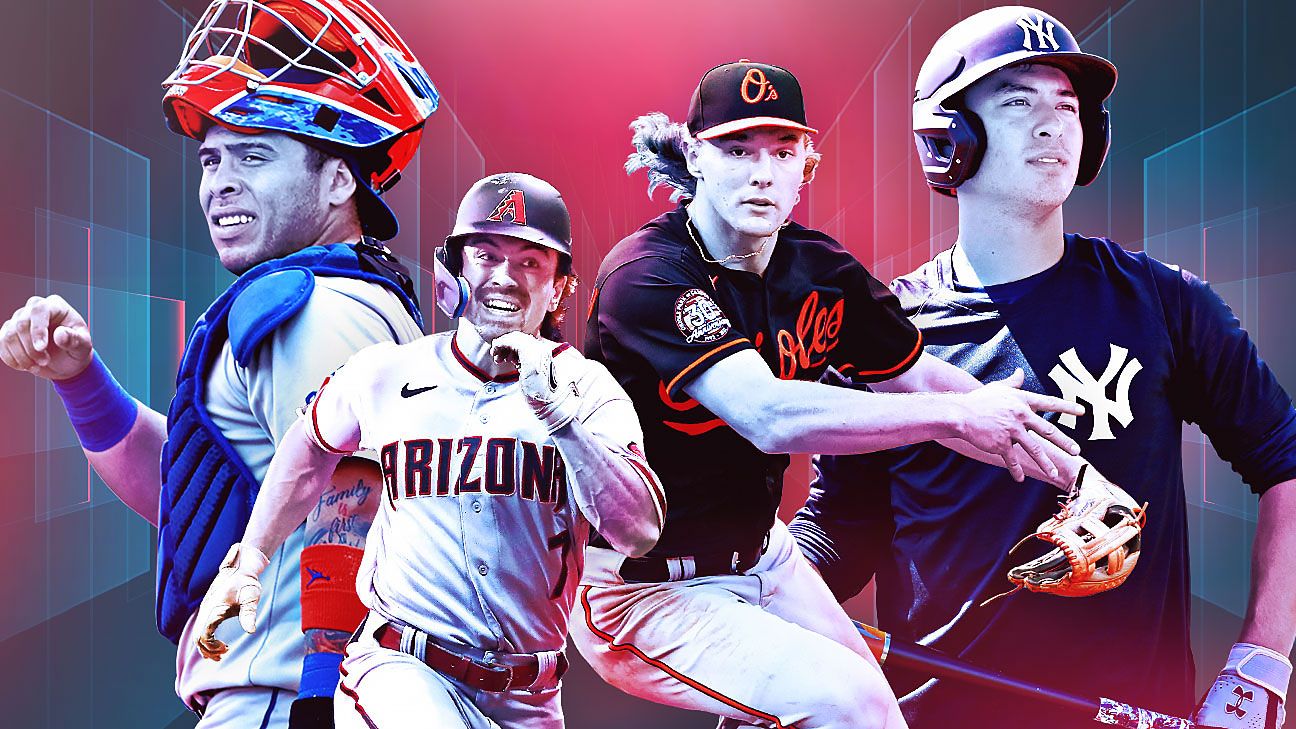 The start of spring training is just around the corner, and that means it is time for an annual rite of passage ahead of the new MLB season: ranking the top 100 prospects in baseball.
The top of this year's list is ruled by two up-and-coming teams that boast the strongest farm systems in the sport — the Baltimore Orioles and Arizona Diamondbacks — with their brightest young stars now starting to hit the major leagues. You'll also notice a heavy dose of left-handed hitters, many playing the premium position of shortstop, early on in the rankings.
For a quick overview of the tools grades on the 20-80 scale that are used heavily throughout this list — and are the industry standard across baseball — along with other key terms used in the rankings click here. Today's list kicks off our 2023 top prospect coverage with our ranking of all 30 MLB farm systems coming Friday and our team-by-team prospect lists for both leagues scheduled to follow next week.
Now let's move on to ranking baseball's top 100 prospects entering the 2023 MLB season.
65 FV Tier
Age: 21 | Bats: Left | Throws: Right
Hit: 45/55, Game Power: 50/60, Raw Power: 65/65, Speed: 50/45, Fielding: 50/55, Throwing: 60/60
Type: Power-and-patience third baseman
Reminds me of: There isn't a perfect comp, but the best and most recent example is that huge 6.3 WAR season Brandon Crawford put up in 2021.
Henderson looked like he'd be a late first-round pick in 2019 as a well-rounded high school shortstop in Alabama. He made it all the way to the Orioles at the No. 42 overall pick, mainly because of questions about his ability to make contact and stick at shortstop long term. Early in his pro career, his strikeout rates hovered near 30%, so there was some basis to those contact concerns, but Henderson also showed more patience and in-game power than most evaluators expected. This also helped him profile at his likely future position: third base.
Henderson was No. 96 on last year's list, fitting as the kind of high-variance bet I like to sneak onto the end of lists because of the possibility they could have a huge breakout. Henderson hit his 90th-percentile projection, crushing Double-A … then crushing Triple-A … then crushing the big leagues — all at age 21. He produced a combined 23 homers and 23 stolen bases over the three levels. He's now a franchise cornerstone in Baltimore, along with last year's top overall prospect, Adley Rutschman.
You can expect a .260ish average with a plus walk rate (call it a .350 on-base percentage), plus power (let's say 25 homers — but I bet he cracks 30 at least once) and above-average defense at third base, good enough to fill in at shortstop if needed. From an evaluator's standpoint, he also has additional markers that make you feel good about this projection: clean health record, continued multiyear improvement, advanced feel for the strike zone that limits prolonged slumps or a long break-in period, he can play multiple positions and has already proved he can do it in the big leagues.
The O's have back-to-back best prospects in baseball and their farm system is the class of the sport, thanks in large part to a really strong pipeline of scouting and developing hitters. Baltimore could be a scary team at the major league level sooner than you might think.
---
Age: 22 | Bats: Left | Throws: Left
Hit: 50/60, Game Power: 50/55, Raw Power: 60/60, Speed: 70/70, Fielding: 55/60, Throwing: 45/45
Type: Compact, explosive tools bonanza
Reminds me of: If you put at shrink ray on Bryce Harper, trading some power for a lot more speed.
There isn't a perfect comparison for Carroll, but I started with Harper as they both have an intense, play-with-your-hair-on-fire approach with more explosive ability than you'd think from watching them walk around in uniform. For context, Carroll suffered a serious shoulder injury in the seventh game of the 2021 season (after missing the whole 2020 season because of the pandemic) at High-A when he swung so hard on a home run that his shoulder couldn't handle the impact.
Henderson and Carroll have separated themselves from the pack and are a near coinflip for the top spot. They're similar in offering long-term performance, tools and having successful MLB time under their belts. I give Henderson the slight edge because of Carroll's general approach to the game and the slight concern that there could be some durability issues along the way. That said, there's also a compelling argument that Carroll offers value in more facets.
Carroll is a plus defender in center field, he's a plus-plus runner (a top-of-the-scale 80-grade runner for some), and he's a baseball rat with instincts to match: 33/39 on stolen bases last season over three levels. There's a real shot he hits 25 homers at some point, but I'd expect more 15-20 on an annual basis. Carroll has plus feel for getting the bat head on the ball but even better pitch selection. When you throw in his speed, it adds up to a lot of long counts, infield singles and bloopers that turn into doubles. Possibly the highest compliment you can give this type of player: He's going to be annoying to fans of NL West rivals for a long time.

60 FV Tier
Age: 21 | Bats: Right | Throws: Right
Hit: 45/60, Game Power: 50/60, Raw Power: 60/60, Speed: 50/50, Fielding: 45/50, Throwing: 55/55
Type: Above-average offense from a pretty good defensive shortstop
Reminds me of: Bo Bichette or Willy Adames
There's both a little prospect fatigue with Volpe and some revised defensive expectations as he's really improved the power part of his game. As a prep draft prospect in 2019, Volpe was seen as a skills-over-tools type with good makeup that was a likely big leaguer, but without big upside in large part because of the power ceiling due to his size (listed at 5-foot-11, 180 pounds.).
In 2021 (and behind closed doors because of the canceled 2020 minor league season) he took a massive step forward, adding about 20 pounds of muscle and a new swing geared to that frame, hitting 27 homers in 109 games. He had an unlucky ball-in-play-related slow start in 2022 but still ended up with 21 homers and 50 stolen bases split across Double-A and Triple-A. Scouts now think he's a fringy defensive shortstop, right on the border of having to move to second base, basically as a tradeoff from that added power. The reason he's still ranked this high is that he's big league ready and his floor seems like a .250 hitter with average on-base and power (15-20 homers) and solid second base defense. As a bad outcome, that's still a solid-average everyday player, so there's very little risk.
On the other hand, I think he'll be good enough to play an average shortstop (sliding over if the Bombers have a true plus defender to force him to shift over) and deliver an above average on-base percentage with a chance for 25-30 homers. He might not be able to do all three of those, but even just two of the three means he ends up like Bichette, Adames, or Bogaerts, who last year put up 4.5, 4.7, and 6.1 WAR, respectively.
The next two players are catchers who either could be a first baseman with below average contact skills while the other likely never hits 20 homers. They also both come with the injury risk and less playing time that almost all catchers have these days, limiting their upside.
---
Age: 22 | Bats: Right | Throws: Right
Hit: 60/65, Game Power: 40/45, Raw Power: 50/50, Speed: 50/50, Fielding: 50/55, Throwing: 60/60
Type: Well-rounded hit-over-power backstop
Reminds me of: The first two MLB seasons of J.T. Realmuto's career
The Orioles have the best farm system in baseball, but after landing Moreno in an offseason trade that sent outfielder Daulton Varsho to Toronto, Arizona has two of the top three prospects in the sport — and both are ready for the big leagues right now.
The main reason there's a tier break here is that Moreno offers premium ability, but in a more subtle package that a fan might not notice right away. Most importantly, Moreno is a definite catcher. He has advanced feel in all aspects of the position, grading out above average as a defender, thrower, and athlete behind the plate with rare speed for the position. He also has a rare, plus-plus ability to put the bat on the ball and a good enough approach (call it average pitch selection) that his contact skills show up in his raw stat line. Some advanced bat-to-ball prospects fall into bad habits against weak pitching in the minors — swinging at anything close because they can hit it — that creates issues against big league pitching; that isn't the case here.
Moreno falls short of the 65 FV tier because his raw power is merely average — and given his style of hitting, it may play a notch below that in games: somewhere in the 8-15 homer area annually. The value of six-plus years of control of a big league ready catcher with an above-average glove and offensive package is enormous, when a 2.0 WAR season (i.e. a solid, low-end starter at any other position) would be in the top dozen catchers. With any growth at all, he'll be battling J.T. Realmuto, Sean Murphy, Will Smith, and Willson Contreras for NL All-Star spots every year. I mention Realmuto as a comp since the athleticism is comparable and Realmuto had a power spike in his third full MLB year; the tools are here for Moreno to make a similar leap.
---
Age: 21 | Bats: Right | Throws: Right
Hit: 40/45, Game Power: 55/65, Raw Power: 65/70, Speed: 40/35, Fielding: 45/50, Throwing: 55/55
Type: Powerlifter who catches and will hit 30 homers some day
Reminds me of: He's somewhere in the Venn diagram of Gary Sanchez, Cal Raleigh, Salvador Perez and Willson Contreras.
As a 16-year-old from Venezuela, Alvarez was in the top tier of his international signing class. He signed for a $2.7 million bonus that ranked third-highest in the 2018 class. He is now the clear best player from a group that includes several players who place on this list: Diego Cartaya, Noelvi Marte, Marco Luciano, Orelvis Martinez, Kevin Alcantara, who all received seven-figure bonuses, and two breakout low-bonus prospects in Elly De La Cruz and Endy Rodriguez.
Alvarez's combination of game-changing power and premium position are the carrying tools. His contact ability is just OK and his speed won't help him leg out many infield hits, but Alvarez's shorter arms and incredible strength make for a scary combination for pitchers. Offensively, the question is how his approach and pitch selection will play in the big leagues. But his ceiling is 40 homers if it all clicks — and that's not the ceiling of many players in the minor leagues, especially at his position.
On top of that, Alvarez has a real chance to be an everyday-quality defender behind the plate. He has always been built like a bowling ball, so his mobility isn't his biggest strength defensively. He makes up for it with his arm and he has made progress in all the soft skills like game-calling while physically staying loose and flexible. I think the four names in the Reminds Me Of section give you an idea of the different paths his career could take, with Gary Sanchez's a familiar roller-coaster ride that Mets fans are hoping to improve upon.
---
Age: 19 | Bats: Right | Throws: Right
Velo: 95-99 mph, Fastball: 60/70, Slider: 60/65, Curveball: 50/55, Changeup: 50/60, Command: 50/60
Type: Silky-smooth 6-foot-8 potential ace
Reminds me of: A taller Yu Darvish?
I find it difficult to come up with comparisons for the players at the top of these lists as they are outliers in many ways, which you then have to compare among the other outliers in the big leagues, and they rarely match up perfectly to another player. Perez is almost impossible in that he seems so good at everything at such a young age and extreme height that we basically haven't seen this kind of pitching prospect before.
Normally, teenage pitchers who are tall and/or throw this hard have flat-out bad command that is often a career-long weakness. Normally, if this type of prospect has two good pitches as a teenager that would be enough to rank among the best prospects in the game, with the main question if they can come up with a third, or have enough command to be a starter. On last year's list, I ranked Perez 55th and said he "has the most attractive résumé an 18-year-old pitcher can have" while explaining that a young, hard-throwing, super tall right-hander with changeup ahead of breaking ball isn't a type I like to bet on, and it also seems impossible that a kid this young and tall can keep throwing strikes like this. His numbers were actually better in 2022 than 2021 and his slider became his best secondary pitch. So I've given up on any doubt: Perez is the best pitching prospect in the minors.
The issue now is that the track record of pitchers with that title isn't great. Forrest Whitley and Sixto Sanchez are already cautionary tales, Grayson Rodriguez got hurt last year and Jesus Luzardo and MacKenzie Gore bounced back in 2022 — but still not quite to the heights once projected. The idea that Perez could be big league ready with four plus pitches and plus command as he's turning 20 years old this season is completely absurd so I'm going to stop worrying and enjoy the ride.
---
Age: 20 | Bats: Left | Throws: Right
Hit: 35/55, Game Power: 35/55, Raw Power: 55/60, Speed: 45/45, Fielding: 45/50, Throwing: 60/60
Type: Sweet lefty-swinging shortstop
Reminds me of: Christian Yelich, but at shortstop
The easy comparison as a 6-3, lefty-hitting shortstop is Corey Seager, but I don't think Mayer has the frame or projectability to get to the Seager or Carlos Correa level of power while also playing shortstop. That's no problem, though, as Mayer is one of the best track-record shortstops in recent draft history, with scouts circling his name in their programs since early in his high school career. He held serve all the way to draft day in 2021 as a toss-up with Jordan Lawlar for best prospect in the draft. For still unclear reasons, both players slid out of the top three (Henry Davis, Jack Leiter, Jackson Jobe went with those picks and are all much lower on this list or just off of it).
Mayer has the choice to lean more into power or contact, but either way he will come with defensive value, like Yelich did in the outfield. I'll split the difference and call both Mayer's hit and power tools 55-grade ability (.270 with 20-25 homers), but either could also be a 60, and there are no concerns that he can post at least average defensive performances at shortstop. Mayer isn't a burner and isn't traditionally explosive in the "I'd love to see this guy at an NFL combine" way, but he has all the little baseball-specific skills that are required to be a perennial All-Star.
---
8. Jordan Lawlar, SS, Arizona Diamondbacks
Age: 20 | Bats: Right | Throws: Right
Hit: 35/60, Game Power: 30/50, Raw Power: 55/60, Speed: 60/60, Fielding: 40/55, Throwing: 60/60
Type: Plus athlete with plus feel for the game
Reminds me of: Xander Bogaerts
Lawlar continues keeping pace with Mayer and the difference between them is basically a coin flip for me over a year after their draft. Lawlar is a little more of a conventional standout athlete, as a plus runner with a plus arm and plus raw power, with a little more bounce defensively and at the plate. Mayer gets the slight nod as he's getting to his power (via exit velo, hard hit rate, barrels, etc.) in games more effectively right now and Lawlar has had two freak injuries (torn labrum in his shoulder just after he signed and a broken clavicle suffered in the Arizona Fall league).
Bogaerts feels like a good comp since Lawlar isn't getting to all of his BP power in games right now and there's enough up-and-down to his defensive performances to make scouts pause. Lawlar has excellent feel for the game and has always hit well in games, along with being a plus-plus baserunner, while the defensive questions are mostly a matter of focus, so I have no doubt he'll round into a solid average defender. I expect these two to be ranked next to each other again next year and at this trajectory, they'll be fighting for the top spot on the list.
---
Age: 21 | Bats: Switch | Throws: Right
Hit: 35/40, Game Power: 45/60, Raw Power: 70/70, Speed: 70/70, Fielding: 40/50, Throwing: 70/70
Type: A 6-5 (or possibly taller!), switch-hitting shortstop with plus-plus speed, power, and arm strength!
Reminds me of: Oneil Cruz on the whole, but with raw tools alone that are also similar to Bobby Witt Jr.
If you liked my joyful scouting report for 13th-ranked Oneil Cruz on last winter's list, you're going to love De La Cruz, because everyone I've talked to about Elly has mentioned Cruz as they are the only players anyone can think of who are even close to similar.
De La Cruz is listed at 6-5 but I think he's a bit taller, and simply by having 70-grade raw power, speed and arm strength, we're already into all-time territory of the best tools anyone has ever seen. He's also a switch-hitter and, unlike Oneil Cruz, De La Cruz has a skinnier build that allows him to actually play a big-league-caliber shortstop. He might not look like he can when walking around, but we've also seen enough Correa and Seager types over the years who are immediately counted out of playing the position when turning pro, before their plus athleticism and feel for the game win out.
The one thing I haven't mentioned is the contact ability — and that's the one big question. De La Cruz has below-average pitch selection (a 35% chase rate in the minors last year while 33% is big league average, but that's against big league pitching) though young, superlative talents have proved this can improve a notch or two at the upper levels. Julio Rodriguez improved a good bit on chase rate just last season after pitch selection was his biggest question mark as a top prospect. Because De La Cruz is trying to do damage, has long arms and lifts the ball successfully, he's never going to hit for a great average, as the bat just won't stay in the zone as long as a Luis Arraez type. That said, Elly consistently hits the ball hard and can leg out infield hits, so I wouldn't just assume he's a locked-in .240 hitter against big league pitching, either. De La Cruz actually hit over .300 at both High-A and Double-A last year in big samples.
Elly De La Cruz is going to become appointment viewing once he gets to the TV league, in the same way that Oneil Cruz and Fernando Tatis Jr. lit up Statcast on a nightly basis when they hit the big leagues
---
Age: 19 | Bats: Right | Throws: Right
Velo: 95-99, Fastball: 65/70, Slider: 55/60, Curveball: 50/60, Changeup: 45/55, Command: 40/50
Type: Huge, power-armed potential ace
Reminds me of: (leans in, whispering, looking around) Justin Verlander
In the aftermath of the blockbuster trade that sent Juan Soto to the Padres, some rumors about behind-the-scenes details circulated across the industry. In addition to talk that the Nats asked for Padres SS Jackson Merrill along with the package that ultimately landed Soto, there has been buzz that GM Mike Rizzo attempted to expand the deal to bring Painter (great pitcher name!) to Washington.
It wasn't shocking because of Painter's 2022 velo spike that helped his stuff play even a notch higher than it did when he went No. 13 overall in the 2021 draft out of a Florida high school. Now buzz is growing that Painter might break camp with the big league team this spring, as GM Dave Dombrowski remains one of few GMs in the league not trying to win a gold medal in the Service Time Olympics.
At draft time, Painter offered a 6-7 frame with plus physical ability, starter command projection and four above average-to-plus pitches. Early in 2022, he was sitting 95-99 and hitting 100 mph, throwing mostly just his heater and his slider (take a look), but it's not like he forgot how to throw his curveball and changeup — he was just running a 34% whiff rate throwing those two pitches 94% of the time. This is a somewhat familiar song to prospect watchers; Nate Pearson was sort of like this a few years ago, Forrest Whitley before him, and so on. Also, Justin Verlander was sort of like this in the low minors — and that's after spending three years in college. It's never likely for a prospect to turn into a Hall of Famer, but most future aces look something like Painter does right now in the minors. Verlander's ability to change what he does every few years is that rare skill that separates him from the more ordinary outcomes we can also see from pitchers ranked this high.
This year, Painter will need to upgrade the command a notch, though his stuff is good enough that average control (throwing it over the plate) and fringy command (hitting his spot) could be enough to make him one of the Phillies' top five rotation options pretty soon. He'll also need to be challenged enough by hitters to be forced to use all four pitches and sharpen them up a bit. Oh, and he's still just 19 years old.
---
Age: 18 | Bats: Right | Throws: Right
Hit: 30/40, Game Power: 40/65, Raw Power: 65/70, Speed: 70/70, Fielding: 45/55, Throwing: 45/45
Type: Tools bonanza in center field
Reminds me of: A sealed mystery bag of fireworks with a wick sticking out
I wasn't sure where to put Chourio so I sent this list around for thoughts with him here, and nobody told me to move him. One exec summed up my conundrum thusly: "No one knows what to do with Chourio. Throw a dart."
Here's the good: He is an 18-year-old plus-plus runner with explosive bat speed and power. He has posted plus-plus exit velos across Low-A, High-A and Double-A and hit 20 homers in 99 games while playing a solid center field. The analytics models that teams now use love nothing more than when a prospect is 1) young for his level, 2) plays an up-the-middle position well and 3) posts in-game exit velos that are way above average. If you look back over the past five to 10 years for players who did these things, you get a list that includes Ronald Acuna Jr. and Fernando Tatis Jr. Chourio has the kind of upside where it's just normal to mention him next to those two names.
Now the downside: Chourio also struck out a lot and has a power-over-hit approach with a precocious feel for loft. It is important to remember that he is facing pitchers who are generally five years older than him and these issues tend to be fixable for young, superlative talents. That said, scouts I spoke with aren't getting the fuzzy feelings they got with Acuna and Tatis at the same stage and there's some worry that Chuorio could be more of a fringy on-base threat who needs to get to most of his power — maybe more like Luis Robert? He's also a really good player but further down that spectrum is Lewis Brinson, with both versions of Cody Bellinger somewhere between those two examples.
Now you can see where the dart throwing comes in. It's hard to put Chourio ahead of similarly talented prospects who are big league-ready with long track records of performance. I've decided to put him at the back of that slam-dunk group yet ahead of the riskier, health-challenged, less-proven or less-talented prospects who follow on this list. Odds are Chourio won't be ranked at this spot again, instead he will either be battling for the top spot or down the list with a long blurb explaining what went wrong.
---
12. Grayson Rodriguez, RHP, Baltimore Orioles
Age: 23 | Bats: Left | Throws: Right
Velo: 94-98, Fastball: 60/65, Slider: 55/60, Curveball: 50/55, Changeup: 60/70, Command: 50/55
Type: Potential frontline righty with a devastating changeup
Reminds me of: Kevin Gausman, but with a better breaking ball.
Rodriguez was bitten by the aforementioned Best Pitching Prospect in Baseball snake last season, when he was limited to just 75⅔ innings because of a right lat strain after earning the title on my preseason list. He was good enough after returning that he certainly could have made his big league debut at the end of the season like fellow Baltimore prospect Gunnar Henderson did. With the new ROY service time rules, the O's could and should put Rodriguez on the Opening Day roster, as he's probably their third-best starter right now. One decent argument against (though it still doesn't change my mind) is if they don't think he'll be able to jump to making 32 starts after his light workload in 2022 and just 117⅓ innings pitched in 2021. In that case, Baltimore could slowly ramp him up to have the option to use him at full bore down the stretch and (whispers) in the playoffs.
Rodriguez's changeup is his best pitch but he isn't reliant on it, with all four of his offerings potential out-pitches in the right situation. The then-Orioles scouting group (now scattered around baseball) beat the industry on Rodriguez by taking him a dozen picks before most expected and the current regime specifically optimized his arsenal to line him up to reach his frontline potential. The big wave of Orioles prospects is almost here, with Rodriguez the potential ace of the group.
LIke the Braves just did on the NL side, the O's have a shot to sweep the AL ROY voting with Henderson and Rodriguez finishing 1-2. And there are other potential candidates including Jordan Westburg, Joseph Ortiz, Cade Povich, Connor Norby and Coby Mayo — all of whom are on this top 100 — along with Kyle Stowers and D.L. Hall, who just missed the cut but have already appeared in the majors.
---
Age: 20 | Bats: Left | Throws: Right
Hit: 30/55, Game Power: 35/65, Raw Power: 65/70, Speed: 60/55, Fielding: 45/55, Throwing: 55/55
Type: A 6-7 plus runner with plus-plus power
Reminds me of: More toolsy version of Kyle Tucker
Woods had a meteoric rise in 2022, going from roughly the 200th-ranked prospect in baseball going into the season to No. 13 on my midseason top 50 — while playing just 64 games (none above Low-A ball) in that span. That should tell you just how much upside the towering right fielder has, and just how disappointing his 2021 draft year performance was.
First the good: He is 6-7 with deceptively plus speed and loose, easy actions in all phases, especially a low-effort lefty swing that creates massive raw power. In his draft year at IMG Academy, he was patient, bordering on passive while trying to hit everything to the opposite field and generally did not lean into his strengths. He was excellent over the summer before that, looking like a midfirst-round pick, but swung and missed a good bit, so the spring made Wood look like a tools-projection whose long arms just wouldn't let him get to his upside at the plate, even when he dialed in the approach better.
The Padres took him 62nd overall, but gave him a $2.6 million bonus commensurate with the 26th overall pick. The biggest reason the Padres are as good as they are is they don't need a ton of sterling scouting looks to identify and gamble on a potential star. Their late-first-round pick from the same draft (signed for underslot) is four slots later on this list and teams knew nothing about him until a few months before the draft.
Wood still swung and missed too often the summer after signing, but his approach clicked in 2022 to the point that he was done a disservice not being promoted to High-A by Washington after being the headliner in the Juan Soto trade (ahead of Robert Hassell and Jarlin Susana, both later on this list, and MacKenzie Gore, who has graduated but was on last year's list).
Wood likely loses a step or two and slides over to right field as he ages, but he's a decent center fielder with an outside shot to remain there. How he hits at higher levels this year will give us an idea of what sort of hitter he'll be against regularly 95 mph-plus velocity, but he has the tools to be an above-average hitter with above-average pitch selection and 30-plus homers. He's ranked this low because he has only shown this level of upside and performance for what amounted to half a season at Low-A while the others ahead give more certainty. The striking rise in incredibly tall hitters succeeding (Oneil Cruz, Elly De La Cruz, and Spencer Jones all following in Aaron Judge's footsteps) gives Wood a little more credence than scouts would've given him five or so years ago when Judge and Richie Sexson were the comps at that height.
---
Age: 20 | Bats: Right | Throws: Right
Hit: 40/50, Game Power: 50/65, Raw Power: 70/70, Speed: 45/40, Fielding: 45/50, Throwing: 60/60
Type: Simple, powerful righty swing but not sure about the rest.
Reminds me of: Pete Alonso
Like Woods above, Walker was also a summer standout on the showcase circuit who swung and missed a bit while showing massive power. He was part of the pandemic-affected 2020 draft class and came out of the gates slower than expected that spring, then never got a chance to right the ship. St. Louis took him a bit earlier than some thought he would go at 21st overall, and he immediately made the Cardinals look smart by putting up startling exit velocities while bullying pitchers years older than him and reaching Double-A in 2022 as a teenager.
The primary concern at draft time was that Walker would immediately slide over to third base in pro ball and eventually have to move to first base. That's largely the way things have gone from a performance standpoint, but with Nolan Arenado and Paul Goldschmidt getting MVP votes on long-term deals ahead of him, the Cards moved him to the outfield part time in the 2022 regular season and then exclusively in the outfield in the Arizona Fall League. He's been a bit better than I expected out there and looks like he can be a solid-average defender in an outfield corner.
The other question at draft time was if his pitch selection and approach would be good enough to get to all of his power in games? That's also gone something like scouts expected, as he's now facing competition closer to his talent level. Walker does a good but not great job of lifting the ball in games, his chase rate is also just fine, and he swings more often than the average minor leaguer. Those aren't major concerns right now, though, as he's got massive power in games, is young and talented enough to make adjustments, and is much younger than the pitchers he is facing. But you have to nitpick at this point of the list.
I mention Alonso as the comp because he also has a simple, low-maintenance swing and massive power that he regularly gets to in games. Walker could hit 40-plus homers multiple times, but there are a couple subtle adjustments needed, as mentioned above. There's a real shot he torches spring training, continues being ahead of schedule and grabs a spot in the big league lineup sooner than later in 2023, making me look a bit silly for hedging. There's just enough risk as a corner-only player without much speed and defensive value to slide him to the back of this group of top-notch hitters.
---
Age: 20 | Bats: Left | Throws: Right
Hit: 40/55, Game Power: 40/60, Raw Power: 55/60, Speed: 50/45, Fielding: 40/50, Throwing: 55/55
Type: Shortstop/third base tweener with plus power and patience.
Reminds me of: Corey Seager
Montgomery first appeared on my radar after his sophomore year of high school when an agent showed me a video of one of the more powerful and beautiful lefty swings I'd ever seen from a player that age. The selling point was that I didn't know his name because he wasn't playing much summer baseball due to getting Power 5 interest as a 6-4 point guard in Indiana.
Montgomery opted to focus full-time on baseball, and over the next two years the only real critiques that materialized were that he's probably more of a third baseman than a shortstop long-term (still probably true), and he was 19 years old on draft day in 2021. He lasted until the 22nd pick in the 2021 draft and was 13th on my board. All this to say, the pick seemed like a great one for the White Sox at the time and has worked out even better than expected so far.
Montgomery is a shortstop for now and will probably be fine for a while, but any team with an above-average defender at short will slide Montgomery over to third whether he's a 45 or 50 defensively at shortstop. The real reason for excitement here, like during that initial pitch by an agent, is that after a strong first full pro season, Montgomery may now have plus bat control, pitch selection, bat speed, and raw power — so it's just a matter of how he wants to use those abilities at the plate, to be more contact- or power-oriented. Montgomery needs to have plus bat speed and plus pitch recognition to make longer levers work and to give his hands time to get in place. He has the rare combination of skills to warrant a Seager mention as a comp and, if things keep going like they are, Montgomery will be knocking on the door of the big leagues at the end of 2023 with All-Star upside.
---
Age: 19 | Bats: Left | Throws: Right
Hit: 30/60, Game Power: 30/55, Raw Power: 55/60, Speed: 55/50, Fielding: 45/50, Throwing: 55/55
Type: 6-3 shortstop with a chance to stick and have plus hit/power from the left side.
Reminds me of: Stephen Drew
Merrill is probably the best recent example of why teams should consider taking a chance on a spring pop-up player with almost no history. He and lefty Frank Mozzicato were prep prospects who came out of nowhere ahead of the 2021 draft — to the point that myself and many national scouts didn't know their names until March or April, when the draft was just a few months away.
Merrill played high school ball in Maryland, alongside James Wood (ranked 13th above) in some youth events. Wood transferred to IMG Academy in Florida, was on the national stage for a couple summers, then had a bad spring while Merrill popped up. In the end, they became the first two picks for the Padres, with Merrill signing for an underslot $1.8 million as the 27th overall pick; in the next round, Wood got $2.6 million, almost exactly the slot of Merrill's pick. Now the only players from the 2021 draft ranked ahead of Merrill (27th pick) and Wood (62nd pick) are Marcelo Mayer (4th pick), Jordan Lawlar (7th pick), Andrew Painter (13th pick) and Colson Montgomery (22nd pick). The Padres literally made the two best picks they could — they wouldn't change it if they re-did the draft again today. I would also submit that if they didn't pick either player, they would not have had enough prospects to swing the Juan Soto trade.
As it stands, they traded one and kept one, and Merrill has the look of a future star. He's deceptively big — 6-3 and roughly 200 lbs — and there's some risk: He's only played 86 regular season games since being drafted due to a wrist injury last spring. But the very positive early reviews since signing, followed by a great full-season debut with shockingly good advanced data, helped Merrill springboard into the Arizona Fall League with hype and he continued to deliver. While his numbers weren't eye-popping, you have to remember he was among the youngest players in the league, hadn't played much during the year, and against the lowest competition of anyone in the AFL, but the tools and quality of his at-bats stood out.
What shot him up draft boards late was his plus lefty raw power, plus defensive tools that look good enough to stick at shortstop. The questions back then were his hit tool and pitch selection, because there was literally no data to consider against top pitching. I won't bore you with all the advanced data, but his raw power, hard hit rate, barrel rate and proxies for pitch selection and bat control all graded plus or better from his 45 games at Low-A last spring. I usually try not to put too much weight on makeup reports because teams won't tell you bad stuff, but the raving out of San Diego on Merrill's is overwhelming. There isn't a ton of information and the least track record of anyone thus far on the list, but the upside is a .275 hitter with an above average walk rate and 25 homers that plays shortstop. You can see why the Padres wouldn't include both Wood and Merrill along with the others in the Juan Soto trade package: They could both be franchise cornerstones if it all clicks.
---
17. Jackson Holliday, SS, Baltimore Orioles
Age: 19 | Bats: Left | Throws: Right
Hit: 30/55, Game Power: 30/60, Raw Power: 55/60, Speed: 55/50, Fielding: 45/50, Throwing: 55/55
Type: Shortstop with a chance to stick and have plus hit/power from the left side.
Reminds me of: No perfect comp; more on this below.
The comp thing starts to bother me here, because Holliday, Merrill, Montgomery, Mayer and Henderson, all in the top 18, are all advanced hit/power combos at shortstop without great big league comps (unless you squint at their size, and say maybe Corey Seager). Do we just comp them to a different player who would post a similar statline? Pretty soon they're all going to be on whatever has the cachet of a Sports Illustrated cover these days. Here's a past one, for example.
Holliday was a projected mid-first round pick after a strong summer, but after the first couple spring workouts, immediately jumped into the top 10 and kept climbing. I ultimately ranked him third, but it was essentially a three-way coin flip with Druw Jones and Termarr Johnson, who are all still tightly packed. After Jones' shoulder surgery and with some positive post-signing performances, Holliday has now opened up a bit of a lead over the other two.
The sales pitch is easy here: big league bloodlines (Matt is his father), with a chance for plus hit and power from the left side, and enough tools to stick at shortstop long-term. He's a 55 runner, and I don't think he's quite quick enough to be a plus defender at short, but has (no surprise) strong instincts in all phases. His swing got too big in the spring because he wasn't facing much premium velo and he played in a small stadium where he could mishit balls out of the park. I didn't think then and don't think now that this is an issue, as Holliday seems plenty coachable to dial things in. The only real thing to nitpick on at this point is it's hard to imagine him having a 70- or 80-grade tool on the card, but not being able to find a substantive weakness is a good sign in a player. Even at just 19, Holliday has a chance to move quickly through the minors and up this list. He's polished, and the concrete is pretty dry for his age — he just needs to prove it at higher levels.
---
Age: 22 | Bats: Right | Throws: Right
Velo: 96-98, Fastball: 70/80, Slider: 60/70, Curveball: 55/60, Changeup: 45/55, Command: 45/50
Type: If the fire emoji turned into a pitching prospect
Reminds me of: Dylan Cease
If you see Espino pitch in person, you will immediately start texting your friends because his ability is what would happen if you had no limitations on the create-a-player function on a video game. Going back to high school, he would sit in the upper 90s and regularly hit 100 mph or higher. His slider is a 60-to-70-grade pitch depending on the day. He also would occasionally show a curve and changeup depending on if he needed them that day, and he hit his spots surprisingly well for a young power arm. Since the draft, Cleveland's pitching machine has optimized him ever more, and when he's on, he looks a lot like AL Cy Young runner-up Dylan Cease.
There's an inherent injury risk from simply throwing that hard, no matter how careful, strong and flexible you are, and Espino is all three of those. Due to that risk and the low success rate of prep righties in general, he lasted until the 24th overall pick in the 2019 draft. He only threw 18.1 innings in 2022 due to non-surgical knee and shoulder issues, after his Spring Training outings had scouts and analysts raving.
Espino is all systems go for 2023 and could 1) grab a big league rotation spot in short order 2) be a dangerous relief pitcher down the stretch or 3) continue treading water due to health or command or other issues. Some execs suggested scooting Espino down to the back of this tier due to that risk, but all of them recognized he could also break out this year. Because he could be a Cy Young-level force of nature, I elected to rank him up this high, but Espino has the highest gap in projected 2023 ceiling and floor of players near the top of this list. We've all been burned dreaming on a fireballing young prospect, but Espino is so fun to watch that he makes me want to believe he's one that will click.
---
Age: 21 | Bats: Right | Throws: Left
Velo: 93-95, Fastball: 60/65, Slider: 55/60, Changeup: 50/55, Command: 45/55
Type: The next low-slot frontline starter — Aaron Nola, Chris Sale, Luis Castillo-esque
Reminds me of: A Giants low-slot lefty starter with above average stuff and command. Are you gonna make me say it?
Harrison, an interesting low-slot lefty starter, had a good summer showcase season and a solid spring out of a NorCal high school, but he was still working mostly 89-92 with stuff that flashed above average to plus at times. The selling points were deception, feel and knowing how to pitch, more than the raw stuff. The Giants surprised some by paying him $2.5 million (late first-round money) in the third round in the 2020 draft. He didn't pitch the summer after signing, but buzz started growing. Soon after that his velo was starting to climb, his secondary stuff was accordingly getting more crisp, and his command wasn't suffering.
Harrison also does a very en vogue thing in pitching these days: He gets down the mound well, delivers from a low slot, and throws a fastball that isn't a heavy sinker like many low-slot fastballs are. Traditionally, it's been a pejorative when a scout says a pitcher has a "flat" fastball, but that's now ideal to some teams — essentially delivering the ball from as low and forward as possible on the mound with little to no sink, to the top of the strike zone. This makes the plane as close to flat as possible. Now imagine a homerun hitter with a natural uppercut to his swing. The flat fastball and uphill swing don't intersect for long, which means less contact. That means strikeouts.
There's all kinds of conditions and exceptions beyond how I simply describe it there, but Craig Kimbrel and A.J. Minter are two guys who do this with their fastballs very well, and it's a huge reason why they succeed. If you can pair that dorky fastball plane theory with some good scouting meat-and-potatoes stuff like plus command and plus offspeed stuff, then you're talking about the ingredients for a guy capable of a lot of strikeouts.
Speaking of strikeouts: In 211.2 pro innings, Harrison has 343. Now you understand how a softer tossing high school kid that now has grown into league average fastball velocity can strike that many guys out and is expected to do it against big league hitters, too. There's a non-zero chance he turns into an ace, but I'd expect an outcome more like a second/third starter — which the Giants could really use after a tough offseason.

55 FV Tier
20. Brett Baty, 3B, New York Mets
Age: 23 | Bats: Left | Throws: Right
Type: Power-over-hit corner guy
Baty is another prep hitter who has exceeded expectations despite being 19 years old on draft day. In high school, I loved the footwork and agility that he developed from playing multiple sports that helped in projecting him to stick at third base until at least his mid-20s. He is now 23 and about average defensively at third base, but can contribute at all four corner spots. At the plate, he has an average hit tool and pitch selection — have to hope those don't end up being a notch or two lower — with 25-30 home run upside if it all clicks.
---
21. Druw Jones, CF, Arizona Diamondbacks
Age: 19 | Bats: Right | Throws: Right
Type: Plus-Plus athlete with bloodlines and feel
Druw is the son of should-be Hall of Famer Andruw and was the top player on my draft board last summer when he went second overall behind Holliday. The selling points here are three 70-grade tools: speed, defense in center field, and arm strength, along with a projectable frame that has plus power potential and a long track record of hitting strong pitching. It all adds up to arguably more upside at draft time than even Byron Buxton and almost any other prep hitter in recent memory. Jones has longer arms that can lead to him being a little awkward at times, so projecting exactly what he'll be physically and offensively has a bit of an error bar. It isn't a long-term concern, but he had surgery on his non-throwing shoulder before getting in a pro game.
---
Age: 21 | Bats: Right | Throws: Right
Type: Probably a catcher, with 25-homer upside
Like Francisco Alvarez above, Cartaya is a Venezuelan catcher, right at the top of the 2018 international signing class in bonus ($2.5 million) and prospect status — and a reputation that came years before he even signed. Cartaya is a bit better defensively, with a better chance to stick behind the plate, helped by an easy-plus arm. Cartaya's hit/approach combo is a bit better than Alvarez, but the big differences are two grades of power and three levels of the minors (Cartaya ended the year in High-A; Alvarez was in the big leagues).
---
Age: 21 | Bats: Left | Throws: Right
Type: Maybe a catcher, with 30-homer upside
Unlike Cartaya, Soderstrom is seen by many as a likely first baseman. He's behind Cartaya defensively and in arm strength (Alvarez, too). The raw tools are here, and Soderstrom's hit/approach/power combo is arguably the best of the three. Which could work against him behind the plate, too — even if he could stick, his bat may get to the big leagues fast enough that he won't be given time to finish becoming a big league catcher. First base isn't the only option — some scouts thought Soderstrom could play third at draft time, so don't rule out other corner spots.
The sales pitch today is the same as draft time in 2020: plus hit/approach/power and the feel to get to it in games. That's plenty exciting, but the margin for error gets much smaller if he's first-base-only.
---
Age: 18 | Bats: Left | Throws: Right
Type: One of the best amateur hitters in recent memory, with Jose Ramirez or Rafael Devers vibes
Right after C.J. Abrams went seventh overall in 2019, area scouts told me there were two more underclassman prep prospects in the Atlanta area with that kind of potential: Johnson in the 2022 class, and Cam Collier (55th on this list) in the 2023 class. Collier went to junior college and reclassified into the 2022 draft class, but Johnson won the draft head-to-head.
Johnson is a squatty, second-base-only fit with average speed and arm strength, but that's not why he was the fourth overall pick. Johnson, like many of the hitters at the top of this list, has plus bat speed, pitch selection, raw power and in-game power. He can do almost anything at the plate. The only real concern here is that if he loses a notch of athleticism and moves down the defensive spectrum, he's probably playing first base — and would he then also lose some quickness at the plate?
---
25. Bobby Miller, RHP, Los Angeles Dodgers
Age: 23 | Bats: Left | Throws: Right
Type: If it all clicks, it looks like Max Scherzer
I'm gonna stop you right there. It's never likely any player turns into the Hall of Famer they resemble most, but even if comparing a prospect to Scherzer — the outlier of outliers — is a fool's errand, it's just hard to ignore the profiles being similar. At Louisville, Miller had some relief risk due to his delivery, but he had power stuff and went 29th overall in 2020.
Now — prepare to be shocked — he's improved a lot under the tutelage of the Dodgers' pitching development. He's now knocking on the door of the big leagues at a time when the Dodgers could really use their internal pitching depth to plug a few holes. Miller sits 98-100 and hits 102 mph (as a starter!) and, on the right night, he has three plus secondary pitches with enough control and command to turn over a lineup a few times. The question is how often he'll put that whole package together and whether he is capable of being frontline-starter-level good after dialing things down to a level where he can also put up 180-plus innings.
---
Age: 20 | Bats: Left | Throws: Left
Type: Robbie Ray with a lower arm slot
In the 2020 draft, Tiedemann was an intriguing 17-year-old prep lefty whose price wasn't met. He opted to go to a SoCal junior college so that he'd be eligible again in 2021. I graded him as a second-rounder that spring — he was sitting 90-92 with 55-grade stuff — and was when he lasted until the 91st pick. He does a version of the trendy mound positioning I describe in Kyle Harrison's blurb, slinging from a low slot with good extension. Tiedemann has east/west-oriented stuff with a tailing fastball, sweepy slider and diving changeup.
Still a teenager, he broke out in 2022, making it to Double-A sitting in the mid-90's with a 70-grade fastball, 60 slider and 55-or-60 changeup, along with comparable control/command from his time in junior college. His velocity is still new, he's only made 18 pro appearances, and his command is a notch behind Harrison's. But with a strong 2023, he'll move up into that 60 FV tier with Harrison.
---
27. Masyn Winn, SS, St. Louis Cardinals
Age: 20 | Bats: Right | Throws: Right
Type: Dynamic athlete with an everyday shortstop look
Winn is one of the most physically gifted players on this list. He's a plus runner and big league caliber shortstop with an 80-grade arm, above average power potential and bat speed, along with plus foot speed. Winn also has a history and even some pro experience on the mound, where he sits in the mid-90's and will show a 70-grade breaking ball. He was preferred as a shortstop out of high school when he went 54th overall, but he was still raw at the plate.
Last year was his breakout, as he made it to Double-A shortly after turning 20 years old and saw a spike in power production, a better contact rate and an above average walk rate. He still figures to settle in around league average at the plate in the big leagues, but that level of offense plus the rest of the package would make him a three-win player. The Cards now have a glut of young position players at-or-near the big leagues that need to sort themselves out, but Winn figures to get a crack at the shortstop job, probably in 2024.
---
28. Jasson Dominguez, CF, New York Yankees
Age: 19 | Bats: Switch | Throws: Right
Type: Refrigerator box filled with dynamite
I'm using the same description as last year because Dominguez is still the same player. Since he was 15 years old, scouts have been worried that he could start regressing athletically in his 20's because he developed so early. To me, it's more likely that his peak physical years might be more like 23 to 25 than the typical 26 to 28. Luckily, he's good enough that he'll be in the big leagues well before that — he's 19 now and finished his season with a trip to Double-A.
Dominguez has explosive, plus-plus raw power, plus foot speed, and a plus arm packed into a muscular 5-10 frame. He's a center fielder right now and could eventually move to right field, but that's mostly irrelevant because he has plenty of offensive potential to profile anywhere. Despite being young at every level, he has demonstrated above average pitch selection and, at least average contact skills. As he dials in his launch angle and offensive approach, there's a shot he hits 30-plus homers.
---
Age: 20 | Bats: Left | Throws: Right
Type: On-base machine with plus speed but limited power
When I asked sources about Carter, everyone mentioned his excellent approach — and, sure enough, per minor league TrackMan data, his chase rate (the rate at which he swings at pitches outside of the strike zone) is basically tied for best amongst everyone on this list. His in-zone miss rate (i.e. contact skills) is also the best among that group, and he has plus speed to help leg out some infield hits. So there's an argument that Carter is the best on-base-percentage threat among the top prospects in baseball, and he's a good defensive center fielder on top of that. As you can probably guess, the question here is on the overall offensive impact. He's 6-4 but has below-average raw power and clearly prioritizes getting on base.
---
30. Colton Cowser, CF, Baltimore Orioles
Age: 22 | Bats: Left | Throws: Right
Type: Another well-rounded, lanky center fielder with power questions.
Cowser was a standout hitter at Sam Houston State who took a clear step forward athletically in his draft spring, going from outfield tweener to a center fielder with enough power to look like a potential everyday player. The Orioles took him about a half-dozen picks before most teams would, getting him over $1 million under slot as the fifth overall pick in 2021.
Similar to Carter above, Cowser is a lanky 6-3, a solid center fielder with above average speed, plus hit and pitch selection abilities and good-not-great power. The profiles are similar — Carter has a notch more hit/on-base ability and Cowser has a notch more power — but the O's development group has a strong track record of improving hitters like this.
Last year, Cowser finished the season strong: He hit four homers in 62 games in High-A to start the year, then hit 15 more in the other 76 games, split across Double-A and Triple-A. At this point, he projects for average in-game power, roughly 15-18 homers annually.
---
Age: 22 | Bats: Right | Throws: Right
Type: Above average in all offensive facets, limited defensively
Mead has some similarities to Jung as a bigger-bodied third baseman with above average-to-plus hit and power potential and Triple-A success. In his favor, Mead had a strong 2022 season with 13 homers in 76 games, showing control of the strike zone and posting gaudy surface numbers. The main difference is that Mead has never been a good defender and some scouts go far enough to label him as a player without a position. He's big league ready, and those defensive issues are the only thing making anyone hesitate. That also puts a cap on potential upside if he basically has to be valued like a first baseman, whether that's where he's playing or not, and it makes him another prospect with small margin for error if he doesn't hit at the level that's expected.
---
32. Brandon Pfaadt, RHP, Arizona Diamondbacks
Age: 24 | Bats: Right | Throws: Right
Type: Steady mid-rotation starter
Pfaadt popped up in the Cape Cod League as a new name scouts were intrigued by, a Division 2 righty from Bellarmine (KY) reaching the mid-90s with big league talent, but generally unproven and likely to end up a reliever. The D-backs took him in the fifth round of the pandemic-affected 2020 draft, and he showed that he was bound for a big league rotation.
Pfaadt took even another step forward in 2022, dominating Double-A and Triple-A over 167 innings, with scouts raving about his feel and competitiveness while penciling him in as a mid-rotation fit as soon as the middle of 2023. The D-backs have young starting pitching on the 40-man that may get shots first (Drey Jameson, Ryne Nelson, Tommy Henry) but Pfaadt is the best of the bunch, with a mid-90's heater, slider, changeup and command that all grade out as 55- or 60-grade.
---
33. Gavin Williams, RHP, Cleveland Guardians
Age: 23 | Bats: Left | Throws: Right
Type: Plus fastball/breaking ball you see in late innings, but enough feel to be a starter.
Williams wasn't drafted in the shortened 2020 draft thanks to a combo of projected long-term injury concerns, relief risk and up-and-down performances at East Carolina that kept clubs from meeting his asking price. He had a fantastic 2021 season punctuated by a legendary duel with Kumar Rocker in a Super Regional, where Williams went 7.1 innings with 13 strikeouts in a losing effort.
The Guardians took him 23rd overall, which was seen as a gamble at the time for the aforementioned reasons, but Williams was up to 101 mph with two plus breaking balls and showing starter command and a playable changeup, so the Cleveland pitching development machine seemed like a great landing spot. It was, to say the least, as Williams threw 115 sterling innings across High-A and Double-A last season while throwing 64% fastballs. He could've posted even better numbers if he threw more breakers, but the developmental focus was fastball command. He is now one of the top ten pitching prospects in baseball and may be big league ready by mid-2023.
---
Age: 22 | Bats: Right | Throws: Right
Type: Glove-over-bat shortstop, but still a league-average hitter.
Peraza joins Volpe as Yankees shortstops who are ready to impact the big league team, though Volpe may play a bit more at Triple-A to start 2023. He is also a level (or two) below Peraza defensively, so whenever they do both grab everyday roles, Peraza should be the shortstop with Volpe more likely to move to second base.
Peraza had a solid 18-game big league audition at the end of last season and showed his plus speed, plus glove and above-average arm. While he's learned to tap into his power effectively, Peraza profiles around average as both a contact, approach and in-game power threat. That's an above-average everyday player, but probably not enough thump at the plate to be a star.
---

Age: 21 | Bats: Right | Throws: Right
Type: Big league-ready hit-over-power shortstop
Tovar has good feel for the bat head, is a plus defender at a key position, and had a breakout 2022 at the plate. As a 20-year-old, he went from Double-A to the big leagues, hitting 15 homers and stealing 17 bases. There are some question marks in his profile though: Tovar swings a bit too often, and that hasn't kept him from succeeding in the minors, but could in the big leagues. If he doesn't improve there, Tovar will be slightly below league average at the plate, but helped by Coors and his standout glove, so probably just a low-end regular.
---
36. Pete Crow-Armstrong, CF, Chicago Cubs
Age: 20 | Bats: Left | Throws: Left
Type: Glove-over-bat center fielder, but probably still a league-average hitter.
Crow-Armstrong became a known name early in his high school career in southern California and held serve, going 19th overall in 2020 to the Mets. During a disastrous, ill-fated deadline deal, the Mets shipped him to the Cubs straight up for Javier Baez on a rental while Crow-Armstrong was still recovering from shoulder surgery. He returned with some swing tweaks and performed well in 2022, hitting his way to High-A with 16 homers and 32 stolen bases.
He is a plus runner and at least a plus defender in center field, with 15-20 homer upside and solid feel to hit, but he can get too aggressive at times, which would undermine his contact and power potential. He's still young enough that he can dial things in, but his glove and simply putting the ball in play will likely make him a low-end starter at minimum.
---
Age: 23 | Bats: Left | Throws: Right
Type: Similar to Anthony Rizzo at the plate, but less talented in the field.
Like Crow-Armstrong, Casas was well-known early in his prep career, showing plus power at the same high school that produced Eric Hosmer. He also played with current Mets 3B Mark Vientos and likely 2023 1st rounder Enrique Bradfield Jr. (Vanderbilt). Casas has held serve due to a sweet swing and an elite hit/approach/power combination that has continued to make him look like an above-average everyday player even while he has long shown little to no speed or defensive value. Like Peraza, Casas is likely to break camp with the big league team after a successful 2022 audition: I'd expect 20 homers and a strong on-base percentage in 2023.
---
38. Josh Jung, 3B, Texas Rangers
Age: 24 | Bats: Right | Throws: Right
Type: Righty Kyle Seager
Jung was 19th on last year's list — and a strong second-tier AL ROY candidate. Then, days after publication, it was announced that he needed surgery on his non-throwing shoulder and would miss much of the year. He returned to Triple-A in August as a tune-up for a 26-game MLB debut. He'll turn 25 in a few weeks and is penciled in as Texas' Opening Day third baseman with no platoon partner, so there's some real immediate MLB upside here.
The hesitation is that Jung showed an uncharacteristic aggression at the plate when he returned, walking under 4% in 49 Triple-A and MLB games last year after running close to 10% walk rates the rest of his career. That's a big enough sample that it wasn't a fluke, and it would put him toward the risky end of the aggression/power-oriented spectrum, as opposed to Cowser and Carter above. But it's TBD if this is indicative of what he'll be going forward, or if he should be given some grace from a rocky 2022 season, and we assume he'll revert back to the style of hitter he was the previous five seasons I've scouted him.
---
39. Carson Williams, SS, Tampa Bay Rays
Age: 19 | Bats: Right | Throws: Right
Type: Shortstop who is above average at everything, but still a teenager.
Williams was an intriguing 28th overall pick in the 2021 draft out of a SoCal high school. He was nearly the full package as a shortstop, with only power missing, and also a second-or-third round talent as a pitcher, with easy mid-90s heat, but he simply wasn't interested in pursuing pitching as a pro.
In his full-season debut, Williams flipped his offensive scouting report on its head, striking out 32% of the time and hitting 19 homers, leaning into the power from his newly added bulk. He will likely find a happy medium on the contact vs. power spectrum in the coming years, but even when striking out a lot, Williams had above-average pitch selection. He also stole 28 bases and still looks like an above-average defender at shortstop, so all the elements are here.
---
40. Edwin Arroyo, SS, Cincinnati Reds
Age: 19 | Bats: Switch | Throws: Switch
Type: Switch-hitting shortstop with above-average power and speed.
Arroyo and Williams are back-to-back here because they're pretty similar prospects. Williams is two months older and went 20 picks earlier in the 2021 draft, but both are medium-framed shortstops with strong power showings in their full season debuts in 2022. Arroyo will probably be able to make the subtle adjustments to stick as an average defensive shortstop, but that's still a bit of a question, whereas Williams is a slam-dunk shortstop.
Arroyo got a promotion to High-A late in the year, hitting 14 homers and stealing 25 bases across both levels. He has a power-over-hit profile right now, but it's still early enough that it could evolve. He's generally seen around the industry as the headliner in the Luis Castillo trade, but that isn't unanimous with Noelvi Marte ranked just five slots later.
---
Age: 24 | Bats: Right | Throws: Right
Type: Late-inning-caliber power stuff, but he can turn over a lineup at least once
Brown was a spring popup prospect at a Division II school going into the 2019 draft. He was ultimately expected to go in the second or third round, but somehow lasted until the Astros scooped him up in the fifth. Like Division-II product Pfaadt earlier on this list, Brown had a good arm with mid-90s velocity and some relief risk but Brown's separator then (and now) was a plus hammer curveball that is now a plus-plus pitch. Brown's changeup and command are both fringy but fine, while his 95 to 98 mph heater, slider and curveball are all plus and his control is about average.
There's still some relief risk and he may fit best in a five-and-dive starter or other hybrid role, but Brown's stuff is lively enough that he doesn't need fine command to get outs. Houston let Justin Verlander walk largely because of their rotation depth and Brown is probably their sixth best option now, so he will likely start the year in Triple-A then get another look later in 2023.

50 FV Tier
42. Endy Rodriguez, C, Pittsburgh Pirates
Age: 22 | Bats: Switch | Throws: Right
Type: Hit-over-power, well-rounded catcher.
Rodriguez was part of Pittsburgh's return in the convoluted three-way deal that sent Joe Musgrove to San Diego, coming from the Mets for lefty Joey Lucchesi, who has thrown just 38⅓ innings in the big leagues for New York. At that point, Rodriguez was an intriguing multipositional prospect with a feel to hit.
Over the past two seasons, he's hit 40 homers with a walk rate over 10% and strikeout rate under 20%, finishing 2022 at Triple-A. He also now looks like he'll be an average defensive catcher with an average arm. The hit tool is still the headliner here as his raw power is only average, but getting a solid catcher who can hit .270 with 15 homers is in the range of Danny Jansen (who posted 2.6 WAR last season in 72 games for the Blue Jays), which is basically the 10th best catcher in baseball.
---
Age: 19 | Bats: Switch | Throws: Right
Type: Offense-first catcher
Quero was a nice sleeper pick at this time last year, then he had a huge 2022 season, particularly at the plate: He hit .312/.435/.530 with 17 homers, 12 stolen bases, 14% walks and 18% strikeouts as a teenage catcher at Low-A. It's pretty universal now to project Quero as an above-average offensive threat with power, patience and contact skills, but reviews on his defense differ. To wit, two clubs that evaluate players in similar ways gave me wildly different feedback: One said he's probably not a catcher and to move him off the top 100, while another said he belonged in the top 30 spots.
I tend to be more positive, especially with younger players, on issues like this because if a few teams really believe a prospect can stick at a position, there is a good chance he will. Since he's a bottom-of-the-scale runner, Quero would become a first baseman if he can't catch, so his progress behind the plate (his arm is average, receiving is a bit behind that) will be important to monitor over the next couple seasons.
---
44. Noelvi Marte, SS, Cincinnati Reds
Age: 21 | Bats: Right | Throws: Right
Type: Maybe a shortstop with plus power and arm strength
Marte, along with Arroyo above, were the two best prospects in Cincinnati's trade deadline haul for righty Luis Castillo. Marte has been on the radar for a while, as he was in the top tier of his international signing class when he got a $1.55 million signing bonus in 2018. He has solid power, plus arm strength and will occasionally give scouts a plus run time to first base, but will likely settle closer to an average runner.
He isn't the most nimble individual laterally, so his future at shortstop is a real question, though he could play at second or third base. Marte currently looks like an above-average hitter with above-average in-game power, but his physical development, ultimate defensive home and offensive approach will evolve over the coming years.
---
45. Sal Frelick, CF, Milwaukee Brewers
Age: 22 | Bats: Left | Throws: Right
Type: 5-foot-10 gamer is a plus runner and hitter
Frelick was a late bloomer as a standout multisport athlete in Massachusetts who turned into a middle first-round pick at Boston College. Despite that background, at age 22, he played a half season in Triple-A as a skilled, big league-ready prospect.
He fits the en vogue progressive mold of a hitter, a player with shorter arms to make contact easily but enough innate strength to create average power and avoid being totally one-dimensional. Frelick has plus-plus contact skills and above-average pitch selection along with plus speed and an intense mentality. His limitation is that he probably will hit just 10 to 15 homers annually, with more gap power than anything else.
---
46. Mick Abel, RHP, Philadelphia Phillies
Age: 21 | Bats: Right | Throws: Right
Type: Projection righty with frontline potential
Abel was a standout pitching prospect early in high school, standing 6-foot-5 and getting into the mid-90s with feel for a breaking ball and throwing strikes. He's now 21 years old and has been steadily moving along that path with no real hiccups since going No. 15 overall in the 2020 draft.
He now sits at 94 to 98 with a plus run-and-ride to his heater, a plus-or-better-flashing hybrid 83 to 85 mph breaking ball and a changeup that's also above average at times. His fastball command is the main area for improvement, and he'll spend 2023 in the upper minors, where hitters are good enough to force him to improve. There's frontline potential here, and you can scout the statline a bit: If he keeps his strikeout rate over 10 per nine innings and his walks gets below three per nine innings in the upper minors, he'll probably be moving up this list.
---
47. Coby Mayo, 3B, Baltimore Orioles
Age: 21 | Bats: Right | Throws: Right
Type: 6-foot-5 likely third baseman with plus power and arm strength
Mayo got an overslot bonus of $1.75 million, equivalent to an early second-round pick, in the fourth round of the 2020 draft. He likely would've gotten more money with a full spring, but he had an up-and-down summer with some swing tinkering. Both his contact ability and ability to stick at third base were open questions at draft time due to his 6-foot-5 frame.
In two minor league seasons, he has answered those offensive questions by hitting .270 with a 10% walk rate and 28 homers in 655 plate appearances. His plus power and plus arm give him some margin for error, but his hit tool and pitch selection have been better than expected. His glove looks like it'll be enough to be fringe to average at third base. The Orioles' wave of position players is closing in on the big leagues and Mayo looks like a 2024 arrival.
---
48. Bryan Ramos, 3B, Chicago White Sox
Age: 20 | Bats: Right | Throws: Right
Type: Power-over-hit third baseman with a solid glove
Ramos and Mayo have been ranked near each other through my countless versions of this list. At 6-foot-2, Ramos is shorter than Mayo and that's a big factor in why Ramos is also a solid average defender at third base who can also play a decent second base. Ramos also has 55-or-60-grade power while Mayo's is a grade or two better. Aside from those two things, there are a lot of similarities: Both will be 21 years old during the 2023 season, finished the 2022 season at Double-A and offer average hit and pitch selection to go with above-average power projection from powerful right-handed swings. I'll lean to the higher offensive potential in Mayo, who also happens to be in a better farm system for hitter development, though the White Sox are trending up with Colson Montgomery, Ramos, Oscar Colas and Lenyn Sosa having strong 2022 seasons.
---

49. Zac Veen, RF, Colorado Rockies
Age: 21 | Bats: Left | Throws: Right
Type: Lanky right fielder who is above average at everything.
Veen was surprisingly not well-known as a tooled-up prep hitter in the Orlando, Florida, area until he announced himself on the national stage as a junior by taking Matt Allan deep on a 96 mph fastball while Allan was being heavily scouted as a first-round prospect. He followed that with an excellent summer and went ninth overall in the 2020 draft.
In high school, Veen was a 6-4 athlete with plus speed, above-average arm strength and above-average power, but was expected to add significant bulk and move to right field (if not first base) while growing into what scouts projected would be plus-plus in power. That hasn't happened, as he still has a lanky build and runs well, but is exclusively playing a corner outfield spot.
Expectations have come down a bit as Veen looks more like he might give you 55-grade tools across the board as a right fielder, which is a good-not-great player — though there's still some chance he could still develop into a middle-of-the-order terror.
---
50. Cam Collier, 3B, Cincinnati Reds
Age: 18 | Bats: Left | Throws: Right
Type: Gifted hitter, good-not-great tools
I mentioned above in the Termarr Johnson blurb that he and Collier were the two prep hitters in the Atlanta area and recognized by scouts as early as their freshman years for having high first-round potential. Collier, son of big leaguer Lou, reclassified into the 2022 class by enrolling at Chipola junior college and had a pretty remarkable spring for a 17-year-old facing largely 20- to-22-year-old pitchers: .333/.419/.537 with 8 homers, 12 doubles, 25 walks and 33 strikeouts.
The concern from scouts, some of whom thought Collier was a late-first-round talent because of this, is that he isn't that explosive, with below-average speed, just OK lateral mobility at third base, and solid-average raw power. That line of thinking would mean that Collier is at risk of being a bat-first corner utility type on the backup/starter borderline. From my perspective (and plenty of other scouts), Collier has looked like one of the most gifted hitters for his age for as long as he has been scouted, gave a clear performance in 2022 to that end and he also has a 70-grade arm, which seems pretty explosive to me. Instead of cruising to being a first-round pick in 2023, he left high school after two years to go get on a professional schedule to pursue baseball: this seems like pretty good outward evidence of plus makeup, as well.
---
51. Jordan Wicks, LHP, Chicago Cubs
Age: 23 | Bats: Left | Throws: Left
Type: Lefty with (newly) above-average stuff and (same) feel, devastating changeup.
Wicks went No. 21 overall in the 2021 draft as a high-floor lefty from Kansas State with a plus changeup and above-average command but a fastball, slider, and curveball that were all fringy. It was a different story in 2022 as his velo jumped a couple ticks to 91-94 mph with good ride and the same standout command. The added arm speed also improved both breaking balls, and the changeup is a plus to plus-plus weapon.
Wicks might be big league-ready by midseason and is looking like a midrotation starter with the risk being that the velo bump regresses and he ends up more of a steady backend type.
---
52. Marco Luciano, SS, San Francisco Giants
Age: 21 | Bats: Right | Throws: Right
Type: Power-over-hit with unclear positional future
Luciano signed for $2.6 million as one of many standout seven-figure signees in the 2018 international class that also included Francisco Alvarez, Diego Cartaya, Noelvi Marte (all ranked above Luciano on this list), Orelvis Martinez and Kevin Alcantara.
He has progressed well as a hitter, showing electric bat speed and feel to get to his plus raw power in games. He has hit .271/.363/.491 with 40 homers and an 11% walk rate, 24% strikeout rate in 926 professional plate appearances, while being young for every level and playing in the infield.
The question on Luciano's future is what position he'll play, with third base and corner outfield the leading options even though he's still only played shortstop in his pro career.
---
53. Logan T. Allen, LHP, Cleveland Guardians
Age: 24 | Bats: Right | Throws: Left
Type: Lefty with above-average stuff and plus command.
Luckily this has gotten a bit easier, as Logan S. Allen signed a minor league deal with the Rockies in August after starting the 2022 season with the Guardians.
Logan T. Allen didn't throw his changeup much in high school since it's more hittable by bad hitters than a good breaking ball. He leaned on his split-grip changeup more at Florida International, and the Guardians made him a second-round pick in 2020 due largely to his feel as a pitchability left-hander.
He has become more aggressive as his velocity has crept up to 90-93 mph with his plus command and plus ride that help it play up. His changeup is still plus and with the added arm speed, his two breaking pitches now play above average. Allen is a safe bet for bulk innings, likely as a third or fourth starter, just another polished arm off the assembly line in Cleveland.
---
54. Cade Povich, LHP, Baltimore Orioles
Age: 22 | Bats: Left | Throws: Left
Type: Lefty with above-average stuff and above-average command.
Povich was an intriguing 6-3 college projection out of Nebraska in the 2021 draft when went to the Twins late in the third round. His velo jumped from 88-92 mph to 92-94 mph almost immediately after he signed and that's where it stood for all of 2022. His slider and curveball also improved to flashing plus with the added arm speed, and he has maintained his starter command and solid changeup.
He was dealt to Baltimore last summer as the headliner in a package for closer Jorge Lopez. Like many pitchers in this range, his stuff and/or performance jumped in 2022 and at least some of this group will give back some of those gains because pitchers are susceptible to injuries and mysterious loss of arm speed or command.
Povich is still likely to give effective bulk innings, likely as a starter, maybe as soon as the second half of 2023.
---
55. Gavin Stone, RHP, Los Angeles Dodgers
Age: 24 | Bats: Right | Throws: Right
Type: Late-blooming midrotation righty with a great changeup.
Stone signed for a well-below slot bonus after going with the second-to-last pick in the five-round 2020 draft. He had above-average command (still does) of average stuff and strong performances, but had been a full-time starter only in his abbreviated junior year at Central Arkansas, so the Dodgers were just betting on some qualities they liked more than a long track record of anything exceptional.
As you'd probably guess, he's ranked up here now because his velocity is up from 90-92 mph in college to 93-96 mph, which plays as an above-average pitch. It helps his knockout, plus-plus changeup, which he throws almost as much as his heater, drew a 50% whiff rate last season across High-A, Double-A, and Triple-A. His slider is a clear third pitch but is average more often than not, so the whole package profiles as a midrotation type.
---
Age: 21 | Bats: Switch | Throws: Right
Type: Switch-hitting shortstop with massive upside, bad pitch selection.
The report On Mauricio has been about the same for four years: He has plus power potential, plus arm strength, slick actions at shortstop, and above average feel for the bat head, but swings far too often. He'll be 22 years old when the minor league season starts with a chase rate that is a 30-grade ability.
On the bright side, this is the part of hitting that clubs think is most coachable. Essentially, putting the bat on the ball consistently shows you have the eyesight to see the ball, thus the ability to be patient, it's just a matter of training the discipline of laying off the pitch. Mauricio has consistently been young for his level, so there's some natural growth to be expected as he matures, but he'll likely never be above average at this, as the concrete has mostly — but not completely — dried in my estimation. He also has the tools to be an above-average defender at shortstop but can be a bit of an adventure at times, which could also still be corrected.
If this all feels negative, he is ranked this high because he could break out and hit .270 with 25 homers at shortstop if things ever just click into place.
---
57. Robert Hassell, CF, Washington Nationals
Age: 21 | Bats: Left | Throws: Left
Type: Hit-over-power center fielder
Hassell was the No. 8 overall pick in the 2020 draft, going one pick before another prep outfielder from the southeast, Zac Veen (No. 49 on this list), so they're often compared. Veen was expected to turn into a middle-of-the-order terror and has largely stayed the same while Hassell was expected to continue being the same sort of player and largely has — with the most notable change in Hassell's career being that he was included in the four-player package for Juan Soto.
Hassell should stick in center field — though some scouts still question that — and he hasn't tapped into his average raw power much yet, with most projections that he settles in at a 12- 15-homer range. The selling point here is Hassell can hit with a good approach. He might be more of a solid starter than a star and could debut in late 2023 or early 2024.
---
58. Austin Wells, C, New York Yankees
Age: 23 | Bats: Left | Throws: Right
Type: Power-over-hit everyday catcher
There have been questions about Wells' ability to stick behind the plate dating to high school, but he has made steady progress and now looks like an average defender — though his arm is below average. That would become more of an issue in a robot ump future combined with the new rules that encourage more stolen bases, as throwing out runners is more important with more attempts and since framing wouldn't exist, catchers could sell out to block pitches. He has always shown above-average raw power and pitch selection, along with around average bat control, so he profiles as an everyday player at any position, with hope that the overall defensive package will be at least average.
---

Age: 19 | Bats: Right | Throws: Right
Type: Plus power and patience from a probable catcher
Before the Mariners took Ford with the 12th pick of the 2021 MLB draft, I described him as a powerlifter who is also a yoga instructor. That's not what you normally see in an elite high school baseball prospect, but Ford also does the baseball stuff pretty well.
He's a sneaky good runner with plus times to first, he has a fantastic concept of the strike zone and he's learning hitting mechanics that allow him to get to his plus raw power in games. Ford is also progressing behind the plate to where I think he'll be an average defender with an average arm in time, but that's still a question, though I think he'd bring defensive value at third base or in the outfield.
---
60. Taj Bradley, RHP, Tampa Bay Rays
Age: 21 | Bats: Right | Throws: Right
Type: Power fastball/slider with above-average command
Bradley was a late prep pop-up prospect in the 2018 draft as a 17-year-old with above-average arm strength and some idea how to spin the ball. The Rays scooped him up in the fifth round and his breakout season occurred in 2021. He pitched half of 2022 in Triple-A and seems like the next above-average starting pitcher to come off the Rays' assembly line.
He now sits 94-97 mph with plus ride up in the zone, and a plus, 87-89 mph slider that drew a 45% chase rate last season. His splitter and curveball are both at least average and Bradley's command projects to be above average. It seems pretty obvious that Bradley is going to be pitching in the big leagues soon and the opposing broadcast team will incredulously ask where the Rays keep finding these arms.
---
61. Tink Hence, RHP, Cardinals
Age: 20 | Bats: Right | Throws: Right
Type: Premium athlete with potential plus fastball/curveball/command combination.
Hence was a late-rising prospect in the 2020 draft who probably would've gone higher with a healthy spring for scouts to watch him. A handful of teams ran him up their boards after seeing him before the shutdown because the projection was so enticing.
At that point, Hence was hitting the low-90s as a plus athlete with a clean arm, good delivery and flashes of offspeed stuff. His rise has been a slow burn as the Cards have tried to manage his workload, but Hence was outrageously good in 16 starts in Low-A last year.
Scouts are now projecting above-average command of a 70-grade fastball that is 95-98 mph with plus life and a plus curveball. He also has a slider and changeup that both flash above average but are rarely used. Hence has thrown only 60⅓ pro innings, but there are some who think he could become the top pitching prospect in the game when St. Louis lets him loose.
---
62. Logan O'Hoppe, C, Los Angeles Angels
Age: 22 | Bats: Right | Throws: Right
Type: League-average offensive threat who can stick behind the plate
GM Dave Dombrowski did what he does, (trading prospects for big league help) when he shipped O'Hoppe to the Angels for Brandon Marsh at the trade deadline. O'Hoppe delivered what many (including myself) thought would be a breakout 2022 season, hitting .275/.392/.496 with 15 homers in 75 games in Double-A for the Phillies before the trade.
There probably isn't a plus tool here, but an average defensive catcher with solid-average offensive numbers is in the top 10-15 of the position and O'Hoppe might be that by the end of 2023.
---
63. Ken Waldichuk, LHP, Oakland Athletics
Age: 25 | Bats: Left | Throws: Left
Type: Funky lefty with above average stuff and feel
Waldichuk was another later-round Yankees find (fifth round in the 2019 draft out of St. Mary's) before becoming the headliner of Oakland's four-player return in last summer's Frankie Montas/Lou Trivino trade. Waldichuk is doing a lot in his delivery but it allows him to get way down the mound from a lower slot with run and ride on his fastball, helping it play up from its 93-95 mph velocity. His slider and changeup are both above-average-to-plus and his curveball plays around average but brings a nice additional look to the table. Waldichuk is probably a midrotation starter but his polish, funk and 40-man roster status mean he might be that by midseason.
---
64. Brayan Rocchio, SS, Cleveland Guardians
Age: 22 | Bats: Switch | Throws: Right
Type: Plus hitter and steady defender, but with below average power
Rocchio doesn't come with sexy upside as he's 5-10 and his best selling points are plus contact skills, a solid approach and a steady glove at shortstop. He's on the 40-man and will likely make his big league debut at some point in 2023 with an advanced feel for the game that suggests he'll do well in any role.
Over the past two seasons, Rocchio has hit 33 home runs and stolen 35 bases, showing his feel for the game by getting the most out of good-not-great raw tools. I think he'll be a solid everyday player and as soon as midseason, with some chance I'm underestimating his ultimate upside.
---
Age: 21 | Bats: Switch | Throws: Right
Type: Premium hitter with enough other tools to be a strong everyday player
Lee was a late-first-round prospect in high school, but teams were ultimately scared off by a back issue. After three solid years at Cal Poly, his back was never an issue and he raked in the spring — and in the summers for Team USA — en route to going eighth overall last summer. He is just an OK athlete, a fringy runner and a bit stiff defensively — without the classic top-10 pick physique — so you could imagine his athleticism slowly regressing, but that simply hasn't happened.
Lee is fine as a fill-in shortstop but fits well at third base, and he's a savant in the batter's box. He's a plus hitter with a good approach and 55-grade raw power that he'll probably get to in games. He is probably not a star, but he should be good for a long time.
---
66. Jordan Westburg, 3B, Baltimore Orioles
Age: 23 | Bats: Right | Throws: Right
Type: 6-3 athlete who has grown into above-average offensive force in the infield
Westburg was a late bloomer who didn't do the full showcase/tournament circuit in high school and was just starting to grow into his tools in his draft year at Mississippi State before he went No. 30 overall in the 2020 draft. He gives occasional plus run times, shows plus raw power, and is pretty passable defensively at shortstop — though he fits better at second or third base. He took a long-expected step forward at the plate last year, hitting 27 homers across Double-A and Triple-A and is now a bit above average at everything on a baseball field.
---
67. Orelvis Martinez, 3B, Toronto Blue Jays
Age: 21 | Bats: Right | Throws: Right
Type: Easy plus power, some questions on contact and position
Martinez seems like a familiar kind of prospect. He has huge power and beats up on minor league pitching, but the question is if his contact qualities and pitch selection will be good enough at the big league level for him to hit to get to that power. If he doesn't, he's a high variance corner wrong-side-of-the-platoon guy who is just an OK defender. If he does, he'll hit 30 homers, give us fun bat flips and nobody will care much that he's just OK defensively. He'll be in Triple-A this year after hitting 30 homers in Double-A as a 20-year-old, so bet against him at your peril.
---
68. Henry Davis, C, Pittsburgh Pirates
Age: 23 | Bats: Right | Throws: Right
Type: Big power, fine contact, unclear position
Davis made the slow climb from midfirst-round prospect to a mild surprise as the No. 1 overall pick in the 2021 draft, as an under slot choice that set up the rest of the Pirates' draft. The sales pitch at that point was 70-grade power that could produce 30-plus homers, enough hit/approach qualities to unlock that power and an 80-grade arm that gave him a shot to stick behind the plate.
Scouts are still concerned that he isn't quite nimble enough behind the plate and his arm strength plays down due to execution, though a robot ump future would help. Davis is most likely a first baseman if catching doesn't work out. Davis missed about half of the 2022 season with a broken wrist and later some lingering soreness, so we can't fully judge him on his 2022 surface stats, but he has been a bit below expectations thus far.
---
69. Cade Cavalli, RHP, Washington Nationals
Age: 24 | Bats: Right | Throws: Right
Type: On the right day, four plus pitches and starter command
Cavalli showed athleticism, arm speed and aptitude to dream on in high school and early in his career at Oklahoma, then broke out leading up to No. 22 overall in the 2020 draft. He flashes four plus pitches, plus athleticism, and starter command pretty regularly now, but the quality of the total package and his feel for execution still come and go. He made his big league debut last summer and should get an extended low-pressure big league look on the rebuilding Nationals this year.
---
70. Max Meyer, RHP, Miami Marlins
Age: 23 | Bats: Left | Throws: Right
Type: Mid-90s fastball with a plus-plus slider, recovering from Tommy John
Meyer was a personal favorite going back to his freshman year at Minnesota. He is shorter than you'd prefer an elite pitching prospect at 6-feet tall, but was a plus athlete with a plus-plus-slider, mid-90s heat and plenty of changeup and command to make it all work. On top of that, he wasn't really experienced as a pitcher, learning how to be a starting pitcher in college and with no pitching guru help growing up, so there was room for development.
He went No. 3 overall in the 2020 draft and made his big league debut in 2022, but needed Tommy John surgery. Meyer should return this season and I'm still expecting him to be an impact starter with the backup plan of a standout closer.
---
71. Joey Ortiz, SS, Baltimore Orioles
Age: 24 | Bats: Right | Throws: Right
Type: Above average at everything except power
Baltimore's position-player development machine has turned another midlevel prospect into a real dude. Ortiz was famous to scouts for putting up gaudy numbers in a bandbox at New Mexico State and being the "the shortstop is pretty good, too" next to eventual top-10 pick second baseman Nick Gonzales. Fast forward a few years and Gonzales isn't anywhere close to this list while Ortiz should get a big league look this year, tracking like a solid everyday shortstop.
Ortiz has always been an above-average runner with an above-average arm and plus glove at shortstop while the real development has come offensively. His bat-to-ball skills have become more relevant as he has added enough power that he can now punish mistakes, hitting 19 homers last year across Double-A and Triple-A. I wouldn't expect more than 15-18 homers at his peak in the big leagues, but that would be a really good everyday shortstop considering the contact skills and glove.
---
72. Brice Turang, SS, Milwaukee Brewers
Age: 23 | Bats: Left | Throws: Right
Type: Above average at everything except power
Turang has been famous to scouts for years, looking like a real candidate to be the No. 1 overall pick as early as his sophomore year of high school in Southern California. Turang's star dimmed a bit in the year before the draft, slipping to the 21st overall pick in 2018, but the basic scouting report has been the same for a long time. He is an above-average runner with an above-average arm and glove at shortstop, a solid approach, and average raw power from the left side.
His 2022 season at Triple-A was a step forward, with those tools all becoming more evident in his surface stats and the underlying numbers. Turang is ready for a big league look and could be a bit above average among shortstops as a hitter, fielder and baserunner, though he might get his first reps playing second base in deference to Willy Adames.
---

73. Adael Amador, SS, Colorado Rockies
Age: 19 | Bats: Switch | Throws: Right
Type: Above average at everything except power
The Rockies are a confusing franchise to try to understand as a whole but the top of their system took a step forward in 2022, with the emergence of Ezequiel Tovar and Amador alongside Zac Veen and Drew Romo.
Amador gives plenty of margin for error in his projection as the base of his skills — plus hitter, plus pitch selection, switch-hitter, plus runner, plus arm, solid-average defender at shortstop — check a ton of boxes while his performance in 2022 was better than anyone could've expected.
As a 19-year-old in Low-A, Amador hit .292/.415/.445 with 15 homers, 26 stolen bases and more walks than strikeouts. That 15-homer performance might be about as much as I'd expect going forward, but all the pieces are here for a 2023 breakout that shoots Amador up this list.
---

74. Bryce Miller, RHP, Seattle Mariners
Age: 24 | Bats: Right | Throws: Right
Type: Late bloomer with three plus pitches, chance to start
Miller was a tough evaluation at Texas A&M leading up to the 2021 draft. He spent a year at a junior college, then two years exclusively in the bullpen for the Aggies, eventually being passed over in the five-round 2020 draft. As a 22-year-old in 2021 he was dealing, but made only 10 starts because of a bout with COVID-19. In addition, he had Tommy John surgery in high school and after recovering from COVID-19, his velo would tail off in some starts just before the draft, while his command would come and go. You can see why he slid to the fourth round but also why some teams were excited to scoop up a power arm with a plus fastball, three other pitches that all flashed above-average potential, and success as an SEC starter.
He made the leap in 2022, crushing High-A and Double-A with a 70-grade heater that sits 95-97 with bat-missing life at the top of the zone along with a two-plane slider and changeup that are above-average to plus. There's a little bit of Spencer Strider here as Miller could just throw tons of fastballs and be effective for a few innings, but his execution of his offspeed stuff will dictate his ultimate upside.
---
Age: 21 | Bats: Left | Throws: Right
Type: Square-framed corner type with big lefty thump
Keith was an intriguing switch-hitting two-way prospect from a Mississippi high school in the 2020 draft, but you had to project to see a plus tool. Like fellow two-way Mississippi prep player Austin Riley, position player was the right call and Keith hit the ground running at the plate with a solid year at High-A followed by an Arizona Fall League appearance at age 20.
His control of the strike zone has been better than expected, and he has developed enough physically to have plus raw power, plus pitch selection, and good feel to get to that power in games. That physical development now makes staying in the infield defensively a longer shot, but his bat will profile anywhere.
---
76. Royce Lewis, SS, Minnesota Twins
Age: 23 | Bats: Right | Throws: Right
Type: Snake-bitten by injuries, but with a bag of above-average tools
Lewis has been on the verge of sticking in the big leagues for years now — but the 2017 No. 1 overall pick missed the whole 2020 season, then missed the whole 2021 season with a torn ACL and his 2022 campaign ended early with surgery to repair a partial tear of the same right ACL and he won't return until at least June.
He made his big league debut last season playing mostly shortstop, but with Carlos Correa returning combined with the long-term questions on Lewis' ultimate position, it looks like a utility role mixing both infield and outfield duty will make more sense.
Lewis isn't a slam dunk at the plate, either, as he has long had issues tinkering with his swing and dialing in his approach, but he is so naturally talented — plus raw power, plus speed, feel for the game — that he'll likely figure it out once he gets back onto the field.
---
77. Kevin Alcantara, CF, Chicago Cubs
Age: 20 | Bats: Right | Throws: Right
Type: 6-6 talent growing into his tools
Alcantara is a superlative athlete with plus raw power, plus speed once he gets going and an above-average arm. He's also gifted in the baseball-specific skills of reads in center field and ability to stay compact and turn on an inside fastball. There will always be contact questions given the length of his arms and good-not-great pitch selection, but he's continuing to progress, hitting .273/.360/.451 at Low-A as a teenager with 15 homers, 14 stolen bases and solid control of the strike zone for his age.
---

Age: 22 | Bats: Right | Throws: Right
Type: Hit-over-power, big-league-ready shortstop
The Royals have had trouble getting to the next stage of their rebuild, but they haven't had trouble producing solid infielders. Garcia made his Double-A debut last season and ended the season in the big leagues but even after the Adalberto Mondesi trade, he's still behind Bobby Witt Jr., Hunter Dozier, Nicky Lopez and Michael Massey as homegrown second base/third base/shortstop options. Garcia is a plus hitter with an excellent approach and a steady glove at shortstop, but below-average in-game power.
---
Age: 19 | Bats: Left | Throws: Left
Type: Power-and-patience outfielder with limited pro experience
Rodriguez signed out of the Dominican Republic for $2.5 million in 2019 and was in the midst of a breakout 2022 season before a June knee surgery ended it.
In Low-A, Rodriguez had walked 57 times and struck out 52 times through 47 games. He also hit nine homers and had a .492 on-base percentage, showing easy plus raw power and huge exit velos — so some truly wacky stuff. He's a jacked, squatty prospect who will play a corner-outfield spot and while we need to see more than the 84 professional games he has played, all the information we have is pretty exciting.
---
80. Miguel Vargas, 3B, Los Angeles Dodgers
Age: 23 | Bats: Right | Throws: Right
Type: Corner-utility type who can really hit
The Dodgers are hoping Vargas can be an average defender at third base, but he's a bit below that there and at second base. He is an average defender at first base, left field and right field, so there are clearly some options to get him in the lineup. I mention this because Vargas is big-league-ready with plus bat control, plus pitch selection and 41 homers over the past two seasons — even though his power will probably play closer to average at the big league level. He's probably not a star but he's going to be a useful big leaguer for a while, and maybe a really good one.
---
81. Gordon Graceffo, RHP, St. Louis Cardinals
Age: 22 | Bats: Right | Throws: Right
Type: Late bloomer who is above average at everything on the mound
Graceffo wasn't a big name when he went in the fifth round of the 2021 draft with athleticism and command at Villanova his main selling points. His stuff spiked almost immediately, with 3-4 added ticks of velo giving him four above-average pitches with the same strong command, though his fastball doesn't have the en vogue bat-missing shape to it.
Graceffo threw 139.1 innings in 2022, mostly in Double-A, so he is in line to get some big league time toward the end of 2023 if the deep Cardinals rotation shows some weakness or the bullpen just needs some length. He's now a high-likelihood big league starter, with No. 3 or 4 in a rotation looking most likely.
---
82. Dylan Lesko, RHP, San Diego Padres
Age: 19 | Bats: Right | Throws: Right
Type: Walker Buehler, but with a knockout changeup instead of breaking ball
Lesko was on the national scouting scene as early as his freshman year in high school, when he was sitting in the low-90s, mixing in a plus changeup and understandably putting up goofy numbers. In the year leading up to the draft, the 6-foot-3 righty was up to the mid-90s with almost perfect backspin to his four-seamer, an inconsistent, rarely used curveball that was a 55- or 60-grade pitch when he nailed it and a truly awe-inspiring changeup that many scouts graded as a present 80 pitch, which I'd never heard of for a high school pitcher.
Lesko injured his elbow during his biggest start of the spring, in front of over 100 scouts at a loaded tournament. He eventually needed pre-draft Tommy John surgery and slid from a lock to go in the top five to 10 picks to being taken No. 15 overall. Lesko may not throw in a competitive game until this fall, but he is still one of the best prep pitching prospects in the past decade, with a real chance to turn into an ace.
---
83. Kyle Manzardo, 1B, Tampa Bay Rays
Age: 22 | Bats: Left | Throws: Right
Type: Advanced hit/approach with enough power to profile everyday
Manzardo was a late-rising draft prospect at Washington State leading up to the 2021 draft, getting sandwich-round buzz despite a number of teams seeing him more as a third- or fourth-rounder. The Rays picked him 63rd overall and it has gone very well so far.
The sales pitch was a real hit tool with a pretty lefty swing and good approach, but average raw power and a first-base-only fit. That has basically been how it has played out, but the numbers have been eye-popping: .327/.426/.617 with 22 homers, 59 walks, and 65 strikeouts in 93 games at High-A and Double-A. Now Manzardo may be knocking on the door of the big leagues late in 2023, just two years after being a divisive draft prospect.
---
84. Zach Neto, SS, Los Angeles Angels
Age: 22 | Bats: Right | Throws: Right
Type: Smaller-framed shortstop with sure bat and glove, sneaky power
Neto popped up in the 2021 fall as a potential late first-round pick and followed up with an excellent spring at Campbell en route to going No. 13 overall in last summer's draft. He's a lanky 6-footer with plus speed, a plus arm, an above-average glove at shortstop and plus feel for the bat head.
Neto has a busy, max-effort swing that most scouts think he'll have to dial down when facing 95-plus mph on a regular basis, which would cut into his deceptively good exit velos and overall power production given his size. A 10-15 homer likelihood eats into his overall upside, but he may be plus at everything else on the field and has lots of pro scouting support for his ranking after an excellent 30-game stint in Double-A after signing.
---
85. Jarlin Susana, RHP, Washington Nationals
Age: 18 | Bats: Right | Throws: Right
Type: Plus athlete into the triple digits with a sky-high ceiling
Susana didn't get much attention when he was included in the Juan Soto trade as he was the fourth-best prospect in the haul, behind James Wood, MacKenzie Gore and Robert Hassell. To those in the industry though, he was the name that drew the most intrigue because of his massive upside while having appeared in only eight official pro games at the time of the deal.
The Padres targeted Susana, who popped up late in the international signing period with upper-90s velocity, after they had already spent all of their money, so they agreed to a $1.7 million bonus as long as he waited a year to sign in January 2022.
He's 6-foot-6, 235 pounds, regularly hits triple digits with his fastball, mixes in a plus-flashing slider and pitches with enough feel to be effective. This could literally go in any direction from here — he has thrown 45 professional innings — with the most exciting elements of upside and riskiest versions of risk all mixed together.
---
86. George Valera, RF, Cleveland Guardians
Age: 22 | Bats: Left | Throws: Left
Type: Power-and-patience outfielder with some defensive value
Valera has plus raw power and a very good approach: That's the stuff that matters. He's also a solid-average runner and defender who is passable in center field in addition to having a plus arm. The issue is he's likely always going to run higher strikeout rates because of below-average bat control tied to what he does to get to that power. Valera will likely be behind schedule this spring after recent news that he underwent surgery on the hamate bone in his right hand.
---
87. Owen White, RHP, Texas Rangers
Age: 23 | Bats: Right | Throws: Right
Type: Plus athlete who is above average at everything
White was a favorite of mine in the 2018 draft. He needed Tommy John surgery soon after turning pro, then had the lost 2020 minor league season, so he began his pro career in 2021 but only threw 35.1 innings because of a broken hand, with his breakout coming in the Arizona Fall League. That vaulted him into 2022, when he excelled at High-A and Double-A, putting him on track to reach the majors in late 2023 or early 2024. He has above-average command of a 94-96 mph fastball and mixes in a plus slider as his primary out pitch, but his solid-average curveball and changeup also have their moments.
---
88. Trey Sweeney, SS, New York Yankees
Age: 22 | Bats: Left | Throws: Right
Type: Late bloomer with above-average tools
Sweeney was a late pop-up name in the spring leading up to the 2021 draft with a lack of previous buzz due to playing at Eastern Illinois, not being in the elite summer wood bat leagues and having a big leg kick in his swing that turned off some scouts. He did amazingly well in pre-draft athletic testing, helping underpin the Yankees' belief that the 6-foot-4 Sweeney could stick at shortstop long-term. In his first full minor league season, Sweeney hit better than league average at High-A and got a late promotion to Double-A. He has plus power potential and solid-average tools across the board.
---
89. Ivan Herrera, C, St. Louis Cardinals
Age: 22 | Bats: Right | Throws: Right
Type: Hit-over-power catcher who is ready for the big leagues
The Cardinals' offseason signing of Willson Contreras and retaining of Andrew Knizner blocks Herrera's path to immediate big league playing time, especially with the glut of young position players who are in St. Louis or close. He's an above-average hitter with a good sense of the strike zone and average raw power, though his power production will likely be a tick below average. His defense is fine, mostly fringy but can be average with some work, and his arm is plus. I think he'll be a superior backup option to Knizner by the end of 2023.
---
Age: 21 | Bats: Right | Throws: Right
Type: Above-average-to-plus fastball, slider, curveball and command
Flores has a frankly bananas backstory. He's the Venezuelan-born younger brother of the major league utility infielder of the same name and signed for $20,000 as an undrafted free agent in 2020 out of an Arizona junior college.
He was pretty good in the complex league and Low-A, so Detroit sent him to the Arizona Fall League where his control was well below average. He dominated High-A and Double-A in 2022 and is still just 21 years old.
He doesn't really use a changeup but more starters are now going multiple innings with two distinct breaking pitches, like Flores has. Flores is on a path to go from a completely anonymous junior college pitcher to a top-100 prospect making his big league debut in a three-year span.
---
91. Bo Naylor, C, Cleveland Guardians
Age: 22 | Bats: Left | Throws: Right
Type: Power-and-patience package at the plate, probably a catcher
Naylor was a first-round pick out of a Canadian high school (in 2018), like his older brother and Guardians teammate Josh (in 2015). Bo was flat-out awful at Double-A in 2021, then torched the same level in 2022, earning promotions to Triple-A and the big leagues.
Naylor has an excellent approach, good-not-great contact skills and 55-grade raw power along with sneaky average speed. He split time between third base and catcher as an amateur and has slowly improved behind the plate to where I think he'll be an average defender with an average arm within a year or two. He is likely an offensive-oriented backup who can DH, play first base or offer depth at third until his defense gets to the level of a nailed-down starter.
---
92. Connor Norby, 2B, Baltimore Orioles
Age: 22 | Bats: Right | Throws: Right
Type: Advanced hitter growing into his power
Norby was a pop-up prospect at East Carolina in 2021, lacking big tools but proving he could hit with enough skill to project as a low-end regular. The O's grabbed him with the 41st overall pick and, as with a number of recent college position players playing in Baltimore's system, 2022 was a breakout year.
He hit .279/.360/.526 with 29 homers, 16 stolen bases, a 10% walk rate and a 21% strikeout rate across High-A, Double-A and Triple-A. There is a chance he's a 55-grade hitter with above-average pitch selection and 55 in-game power, average speed and average defense at second base, which is surprisingly similar to Gleyber Torres' 2022 season.
---
93. Tanner Bibee, RHP, Cleveland Guardians
Age: 23 | Bats: Right | Throws: Right
Type: Another out-of-nowhere college pitcher for Cleveland
The Guardians turn mid-to-late-round college pitchers into real prospects at a frightening rate, and Bibee is the latest example. He was a 22-year-old fifth-round pick in 2021, a pitch-to-contact starter from Cal State Fullerton who was mostly hitting 88-92 mph with good feel and a good changeup.
In 2022, he was sitting 94-97 with above-average breaking stuff, a plus changeup and above-average command. He split the season between High-A and Double-A, and now is knocking on the door of the big leagues with the main risk being some anxiety about whether he can maintain that dramatic velo spike.
---
94. Jose Salas, SS, Minnesota Twins
Age: 19 | Bats: Switch | Throws: Right
Type: Middle infielder with advanced hit tool, 20-homer potential
Biggest challenge in my job is keeping these players straight:

Logan S. Allen, LHP, Guardians (went to HS in FL)
Logan T. Allen, LHP, Guardians (went to HS in FL)
Logan Tanner, C, Mississippi State
Tanner Allen, LF, Marlins (formerly Miss. St.)

The Rays have a Logan Allen, too.

— Kiley McDaniel (@kileymcd) March 30, 2022
Salas was traded from the Marlins to the Twins with Pablo Lopez for Luis Arraez. The Fish felt like he was expendable to land an immediate upgrade to their lineup because of a glut of shortstop prospects, with Salas still a few years away.
Salas has plus bat control, a decent approach and solid-average raw power along with a good enough glove to maybe stick at shortstop, though he might also slide over to second base. Salas' younger brother Ethan was the top prospect in the recent international signing period, going to the Padres for the biggest bonus in the class; he's ranked about 40 spots behind Jose right now, but that may not be the case for long.
---
95. Miguel Bleis, RF, Boston Red Sox
Age: 18 | Bats: Right | Throws: Right
Type: Explosive bat speed and big power potential, but it's early
Bleis is still 18 years old for another month and has been drawing buzz for his past two summers, in the Dominican Summer League in 2021 and the domestic complex league in 2022. That's only 76 pro games in total, but he was a notable amateur prospect, signing for $1.5 million in 2020, and the tools are obvious.
He has easy plus bat speed and power potential along with a strong sense of the strike zone for a prospect of his age. Again, it's still early as he has faced only the lowest levels of the minors, but the pieces are here. The upside is limited a bit by his average speed and likely long-term fit in right field.
---
96. Drey Jameson, RHP, Arizona Diamondbacks
Age: 25 | Bats: Right | Throws: Right
Type: Flashes three plus pitches, athleticism and starter command
Jameson was a risky No. 34 overall pick in 2019, as a mid-major pitcher from Ball State with some violence to his delivery and below-average command. It has worked out so far because he has plus stuff with plus athleticism and when you can marry that with good makeup, it's often all that matters. Jameson sits 96-98 — sometimes reaching triple digits — with solid fastball command and a plus slider that drew whiffs 40% of the time last year. His overall command, changeup and curveball are all around average. They come and go a bit, but there's plenty to like here for a pitcher who could get an extended look in the big league rotation for the exciting D-backs.
---
97. Junior Caminero, 3B, Tampa Bay Rays
Age: 19 | Bats: Right | Throws: Right
Type: Rare hit/power upside from a teenager
Caminero kicks off a three-man "maybe they haven't totally earned it on paper yet, but lots of smart people are buying in, so I am too" group as winners of a straw poll for spots near the end of the list. All three of these players have played only a little bit in Low-A but have plenty of upside so 2023 has a good shot at being their breakout year — let's just be ahead of the curve, right?
Caminero is a strong 19-year-old righty hitter with plus bat control, plus raw power and a decent idea of the strike zone already. He's just OK defensively and will probably be able to stick at third base, but will be on one of the corners regardless. He has played only 62 pro games in the U.S., most of those in Rookie ball, but all the signs are here.
---
98. Dalton Rushing, C, Los Angeles Dodgers
Age: 21 | Bats: Left | Throws: Right
Type: The biggest post-draft riser in baseball
Late in the draft process last summer, ESPN college baseball analyst Chris Burke told me to run Rushing up my draft rankings and I didn't listen enough. After publishing my final rankings, I heard lots of buzz that Rushing would go in the 20s and I would've slid him up into that range in the days before the draft, buying into his hit/power combo and trusting that he'd figure out a way to stick behind the plate.
He inexplicably slipped to the No. 40 overall pick, where the Dodgers were fortunate to scoop him up with a slot bonus. Pro scouts have been doing backflips since his 28-game stint in Low-A, praising Rushing to the point where I just threw out my pre-draft eval and accepted I was too light, just like a number of teams were. The upside here is 55 or 60 hit, 60 pitch selection, 55 or 60 power and a fine defensive catcher. The last catcher the Dodgers took out of Louisville was Will Smith, at the 32nd overall pick. Cue the "how do they keep getting away with this" memes.
---
99. Samuel Zavala, RF, San Diego Padres
Age: 18 | Bats: Left | Throws: Left
Type: Advanced hit/power/approach at age 18
Zavala ended the season with a broken hamate bone and was hanging around the 125-150 area of this list until the very end, basically at the top of the "if you have a good 2023 season, you're on next year's list" range. Sources can get overwhelmed by all the names when I send them out for thoughts, but when I boiled it down to a list of 20-30 players and told them to pick a few guys they feel strongly about, almost every source named Zavala — so here he is, despite only 176 plate appearances in U.S.-based professional leagues. He has a sweet lefty swing and will slide over to right field eventually, but there's a rare set of hitting tools here and he is with a team that has had plenty of fast-tracked young hitters shoot through the system.
---
Age: 23 | Bats: Left | Throws: Right
Type: Positionless Canadian-born hitting robot sent from the future
OK, I don't have proof for the robot or the future part — but I can confirm Julien has never been a good defender anywhere and you can look up that he's French-Canadian without my help. His pitch selection is among the best in the minors — let's call it plus-plus — he has had all-field plus power and a swing geared to getting to it for years. He'll get a big league look at some point in 2023 and I'm rooting hard for him because baseball is more fun with more Kyle Schwarber types.
The remaining 50 FV-grade prospects
(Order to be revealed on team rankings)
Kevin Parada, C, New York Mets
Drew Romo, C, Colorado Rockies
Michael Busch, 1B, Los Angeles Dodgers
Spencer Steer, 2B, Cincinnati Reds
Cristian Santana, 2B, Detroit Tigers
Ji-Hwan Bae, 2B, Pittsburgh Pirates
Tyler Freeman, 2B, Cleveland Guardians
Jonathan Ornelas, SS, Texas Rangers
Max Muncy, SS, Oakland Athletics
Liover Peguero, SS, Pittsburgh Pirates
Brady House, SS, Washington Nationals
Angel Martinez, SS, Cleveland Guardians
Cristian Hernandez, SS, Chicago Cubs
Willy Vasquez, SS, Tampa Bay Rays
Luisangel Acuna, SS, Texas Rangers
James Triantos, 3B, Chicago Cubs
Esteury Ruiz, CF, Oakland Athletics
Everson Pereira, CF, New York Yankees
Luis Matos, CF, San Francisco Giants
Johan Rojas, CF, Philadelphia Phillies
Alex Ramirez, CF, New York Mets
Elijah Green, CF, Washington Nationals
Ceddanne Rafaela, CF, Boston Red Sox
Owen Caissie, RF, Chicago Cubs
Quinn Priester, RHP, Pittsburgh Pirates
Jackson Jobe, RHP, Detroit Tigers
Hayden Wesneski, RHP, Chicago Cubs
Jake Eder, LHP, Miami Marlins
Matthew Liberatore, LHP, St. Louis Cardinals