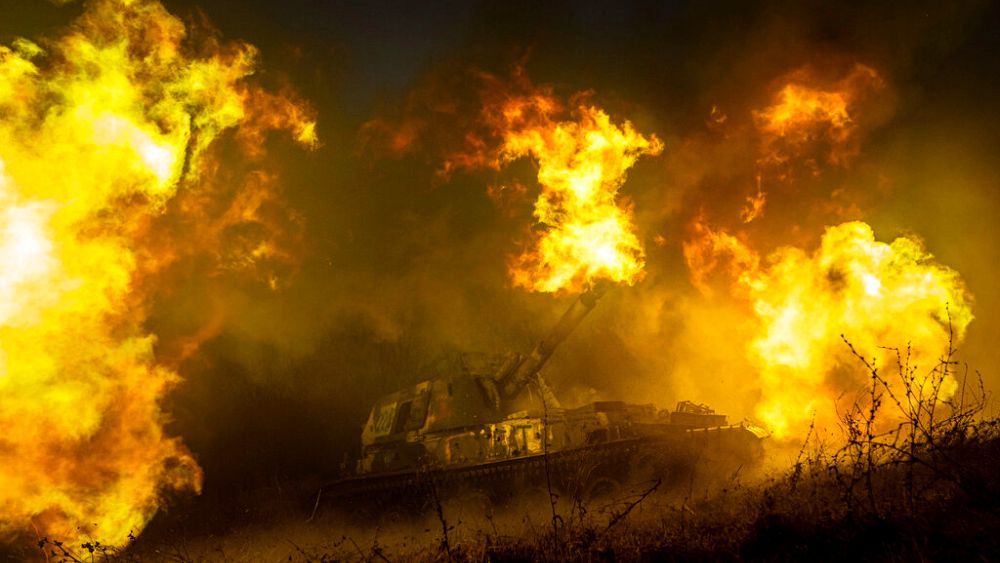 Moscow creeps towards Bakhmut amid gritty fighting
Russia claimed on Tuesday it had captured the village of Blagodatne, just north of Bakhmout in eastern Ukraine. 
Ukraine and Russia have waged a vicious battle for several weeks to control the city, which Moscow frames as key to seizing the prized Donbas region. 
In its daily briefing, the Russian Ministry of Defense claimed "Blagodatne had been liberated" after an offensive by "volunteer assault units", who were supported by planes and artillery.
Russia uses the term volunteer as a byword for paramilitary forces, such as Wagner Group, operating in Ukraine. 
Evguéni Prigojine, boss of the infamous mercenary force, claimed his men had captured the village on Saturday, though this was denied by Kyiv. 
The Russian army and Wagner have tried to take Bakhmout, a city of 70,000 inhabitants before the conflict, since summer — so far without success. 
For several weeks, Moscow's soldiers have intensified their offensive to encircle the city, taking the town of Soledar in January. 
But the fighting has come at a heavy price, with both sides suffering heavy losses. 
Lithuania blasts Russian embassies as 'propaganda institutions'
Lithuania's foreign minister on Tuesday urged EU countries not to host Russian ambassadors, amid heightened diplomatic tensions between the Baltic states and Moscow.
"There is no point in having… an ambassador from Russia in a European capital," Gabrielius Landsbergis told reporters in Riga. 
"In most cases, it is no longer a diplomatic institution, it is a propaganda institution, covering up war crimes and generally promoting a genocidal agenda," he insisted.
Lithuania expelled its Russian ambassador in April 2022, following the discovery of mass civilian graves in the Ukrainian city of Bucha.
Ukraine's western allies have described these discoveries as evidence of war crimes, though Russia denies this. 
Last week, fellow Baltic state Estonia expelled its Russian ambassador, after the Kremlin declared their Estonian ambassador persona non grata.
"We respect the principle of reciprocity in relations with Russia," the Estonian Foreign Ministry said at the time, adding that the Russian ambassador should leave before 7 February. 
Latvia, the third Baltic state, announced soon after it was also expelling its Russian representative in solidarity with Estonia. 
US accuses Russia of violating nuclear treaty
Washington accused Russia of not respecting a nuclear disarmament agreement, known as New Start, on Tuesday. 
American diplomats criticised Moscow for having suspended nuclear inspections and cancelling talks planned under the agreement. 
But they did not accuse their Russian counterparts of building up nuclear arsenals beyond the agreed limits.
With their new majority in the House of Representatives, the US Republicans had asked the country's top diplomat if Russia was violating the disarmament treaty.
"Russia is not respecting its obligations under the New Start to facilitate inspection activities on its territory," said a spokesman for the State Department.
Last year, Moscow announced it was postponing a meeting scheduled for late November between Russia and the US on nuclear inspections, accusing Washington of "hostility" and "toxicity".
Relations between the two nuclear powers are at their lowest point in recent history, sparked by the outbreak of fighting in Ukraine. 
Immediately after his election in January 2021, US President Joe Biden extended New Start until 2026.
Signed in 2010, it limits the nuclear stockpiles of the pair to a maximum of 1,550 warheads, a reduction of nearly 30% compared to past limits set in 2002. It also sets the maximum number of launchers and heavy bombers at 800.
Kyiv berates Croatian president over Crimea comments
Ukraine's foreign ministry criticised Croatian President Zoran Milanovic on Tuesday for saying Crimea would never return to Ukrainian control, describing his comment as "unacceptable."
Russia seized the Black Sea peninsula from Ukraine in 2014 and Kyiv has said it will not abandon efforts to regain control of the region.
In remarks on Monday detailing his objection to Zagreb providing military aid to Kyiv, Milanovic said it was "clear that Crimea will never again be part of Ukraine".
"We consider as unacceptable the statements of the president of Croatia, who effectively cast doubt on the territorial integrity of Ukraine," Ukrainian foreign ministry spokesperson Oleg Nikolenko wrote on Facebook.
In the same statement, Nikolenko thanked the Croatian government and people for backing Ukraine's since Russia's invasion in February last year. Croatian Prime Minister Andrej Plenkovic has openly voiced support for Ukraine.
"We highly appreciate and thank the government of Croatia and the Croatian people for their steadfast support of Ukrainians in the fight against Russian aggression," Nikolenko wrote.
Ukraine pushes for Western fighter jets
Kyiv won support from Baltic nations and Poland in its quest to obtain Western fighter jets on Tuesday, though there are no signs larger nations like the US and UK  will change their stance and provide Ukraine with warplanes. 
"Ukraine needs fighter jets … missiles, tanks. We need to act," Estonian Foreign Minister Urmas Reinsalu said in the Latvian capital of Riga at a news conference with his Baltic and Polish colleagues. 
These countries, which lie on NATO's eastern flank, feel particularly threatened by Russia and have advocated strongly for providing military aid.
Several Western leaders have expressed concern that providing warplanes could escalate the nearly year-long conflict and draw them deeper into the war.
Such fighter jets could offer Ukraine a major boost, but countering Russia's massive air force would still be a major challenge.
Kyiv officials have repeatedly urged allies to send jets, saying they are essential to challenge Russia's air superiority and to ensure the success of future counteroffensives spearheaded by the Western battle tanks.
Asked on Tuesday about the supplies of Western weapons to Ukraine, Russian Foreign Minister Sergey Lavrov repeated the Kremlin's view that "NATO long has been directly involved in a hybrid war against Russia."
The Russian military will "take all the necessary measures to derail the fulfilment of Western plans," he added. 
Both Ukraine and Russia are believed to be building up their arsenals for an expected offensive in the coming months. The war has been largely deadlocked on the battlefield during the winter.